Subscribe to the SKWC's free newsletter.

President's Message
By: David Bugen
President SKWC
(RC '70, RBS '72)

ABBREVIATED PRE-SEASON NEWSLETTER
The season begins in less than a week with a tri-meet at the RAC on November 2nd and the Princeton Open on Sunday November 3rd. It is the first opportunity to see most team members compete. We have a young team with many student athletes taking the mat for the first time. With only three seniors and one graduate student on our thirty-man roster, it will be exciting to see the team grow and develop. As there is a high level of competition in most weight classes, it is unlikely that the starting roster will be finalized until after the Midlands and Southern Scuffle Tournaments at year-end.
In this limited edition, we include an interview that Bill Garbarini conducted with Maria Kiss, the wife of Recruiting Coordinator Kyle Kiss. I hope you enjoy Maria's thoughts. The spouses are the team behind the team. We couldn't have great coaches team without outstanding support team at home. Next month, Bill interviews Cate Leonardis. We also have an update from Reece Humphrey discussing the Road to the Olympics for our Resident Athletes.
An abbreviated newsletter provides an opportunity to invite and encourage all fans to join the Rutgers/SKWC Wrestling Family. There are opportunities for everyone at a support level consistent with individual financial capabilities and philanthropic goals. Links to SKWC Membership and the PIN POOL are included in the newsletter. The Boom Club and Raffle are two other ways to contribute to the SKWC.
This year the winner of the RAFFLE will be able to choose to attend among a selection of events such the NCAA Wrestling Championship, the Kentucky Derby, the Daytona 500, the NCAA Basketball Final Four, the NBA All Star game, or a land and sea exclusion. More information will be announced in our next newsletter.
If you have questions regarding how best to support the SKWC, please reach out to Kyle Kiss [email protected]. If you have already donated, thank you for your support. You are helping our students succeed on the mat and in life.
I hope all fans join the SKWC Family as we grow the Rutgers Wrestling Family!
---

Pin Pool 2019-2020:
The PIN POOL is our most important fundraiser. Contributions support the salaries for Anthony Ashnault, Tyler Graff, Joe Pollard, Kyle Kiss, Patrick Downey, and visiting world-class athletes.

Supporters can pledge from $1 to $300 per Pin. At the end of the season, we multiply the team's total pins by one's pledge to determine the contribution (i.e. $10 x 47 = $470). Last year we had 47 pins.
---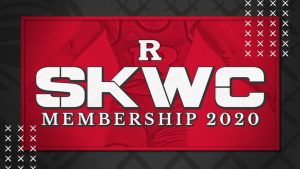 2019-2020 Membership
Membership is an opportunity for all fans to join the SKWC family. One can join for $25 or $150 with different benefits for each membership category
---

The Road to the Olympics!
Coach Reece "Highlight" Humphrey
Coaches Goodale and Ayres had the idea of getting an athlete to the 2020 Olympics through the NJRTC. It started in 2018 when I was hired as the NJRTC Head Coach. The goal of a 2020 Olympian seemed a bit far fetched at the time because we had 1 guy training and he was just one year post graduation from college.
Since then, we have hired 6 full time athletes plus one Olympic red shirt athlete. Those athletes have won GOLD at the Dave Schultz Memorial, GOLD at the US Open, 2 won GOLD at the World Team Trials, 2 won GOLD at Final X and one won GOLD at the Medved International in Russia.
An Olympian doesn't seem so far fetched with this group! We will get there!
There are a few ways to qualify for the Olympic Trials. They are:
Top American at the Bill Farrell,
Top 5 at the US Open,
2020 NCAA Champ, or
1st at Last Chance Qualifier
At the Olympic Trials you have to win your weight class. Finals are 2 out of 3. Win that and you are an OLYMPIAN!
It is a tall task but it is one we are prepared for.
We have been counted out for most of the season and proved people wrong on every stage the World has to offer. Getting one or more athletes to the Olympics will be tough; but we will get it done!
Tokyo – 2020 Here we come!
Tyler Graff 61kg (non-Olympic weight)

Ranked #1 in America
World Team Trials Champ
Final X Champ
World Championships 5th
4x All-American
Pat Downey 86kg
Ranked #1 in America
Dave Schultz Memorial Champ
US Open Champ
World Team Trials Champ
Final X Champ
World Championships 9th
Nate Jackson 86kg
Ranked 5th in America
Medved International Champ
Dave Schultz Memorial 2nd
US Open 5th
2x All-American
Anthony Ashnault 70kg
(non-Olympic weight)
NCAA Champ
4x All American
US National Team Member
3rd at World Team Trials
Bryce Meredith 65kg
Dave Schultz Memorial 3rd
3x All-American
Matt Kolodzik 65kg
(Olympic Red Shirt)
3x All-American
CJ Brucki 79kg (non-Olympic weight)
Dave Schultz Memorial 3rd
US Open All-American
Finally, please check out the link to our latest vlog that shows our off day in Switzerland as we prepared for the World Championships. Next month, I will include our vlog from the World Championships.
Here's the link: https://m.youtube.com/watch?v=QryRHSj6LoI&t=29s
---
Billy G's Corner – William N. Garbarini '63
The Newest Member of the SKWC Wrestling Family
I recently had the chance to speak with and welcome a new member to our wrestling family, Maria Kiss. Maria is a medical sonographer and a graduate of the Rochester Institute of Technology. Maria and Kyle move to New Jersey from Clarion Pennsylvania where Kyle was the Associate Wrestling Coach at Clarion. I hope you enjoy learning about Maria. We are excited to welcome Maria and Kyle to our family.
What were your thoughts about Kyle taking the RU job?
I was beyond excited for him to take this job. Wrestling is Kyle's passion and for him to be able to help coach at this level is a dream come true for both of us. As his wife, it is rewarding to be with someone who loves his job as much as he does. That happiness and excitement just reflect back to his day-to-day life.
What is Kyle's schedule and how does it impact your life?
Since the fall started, Kyle has been very busy working 5-6 days a week. When Kyle comes home he is constantly watching wrestling videos, researching and looking up new kids and making calls. This is his normal speed especially during wrestling season and it makes him happy to be working toward and achieving goals. This does cut into our time together; but, he always finds time to do things that are important to me and makes sure I know he's there for me even when he's working.
How do the kid's activities impact your husband's ability to participate in them?
We do not have kids yet, but he is a great dog dad!
Will you attend home and some away matches?
I will be attending every home match and some of the closer away matches. Kyle's excitement level transfers to me with wrestling matches and I hate to miss them. I tend to get just as into them as he does.
Is there anything you would change about your life as a coach's wife?
It's not always an easy path; but I wouldn't change a thing. As I said being with someone who has such a passion for his job is really rewarding in itself. He genuinely gets so much happiness from wrestling and that has such a positive impact on our relationship.
What are match days like for husband and is there anything you need to do for him or not do for him on those days?
Match days can be intense. He gets very serious. I usually just give him space and we don't talk much on match days. He gets invested in the athletes and it is always a better day in our house when there is a win.
Maria, thanks for your time and welcome to Rutgers and the SKWC Family.
---
This Newsletter is Sponsored by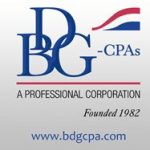 BDG-CPAs