As of 22 November 2023:
---
The start of a new Rutgers wrestling season is only a few days away. All Scarlet Knight fans are anxious to pack the RAC, now Jersey Mike's Arena, once again to support our Big Ten wrestlers on the mat as they face the best competition in the country!The SKWC is an independent non-profit (5.01 c 3) that receives no funding from Rutgers. The SKWC supports Rutgers Wrestling in many ways. One of the main means of support is to bring world class resident athletes to The SKWC RTC to train alongside our Rutgers Wrestlers. The mentoring in and out of the room from these elite athletes helps our Rutgers wrestlers raise their expectations and attain their goals.
This year the SKWC has eliminated the BOOM CLUB and the dues-based membership program. All PinPool and PinPool+ participants will be considered SKWC Members and receive the members only KnightFalls newsletter. We are asking our generous donors who in the past supported the Club by participating in all three fundraising programs concentrate that support into the PinPool or PinPool+.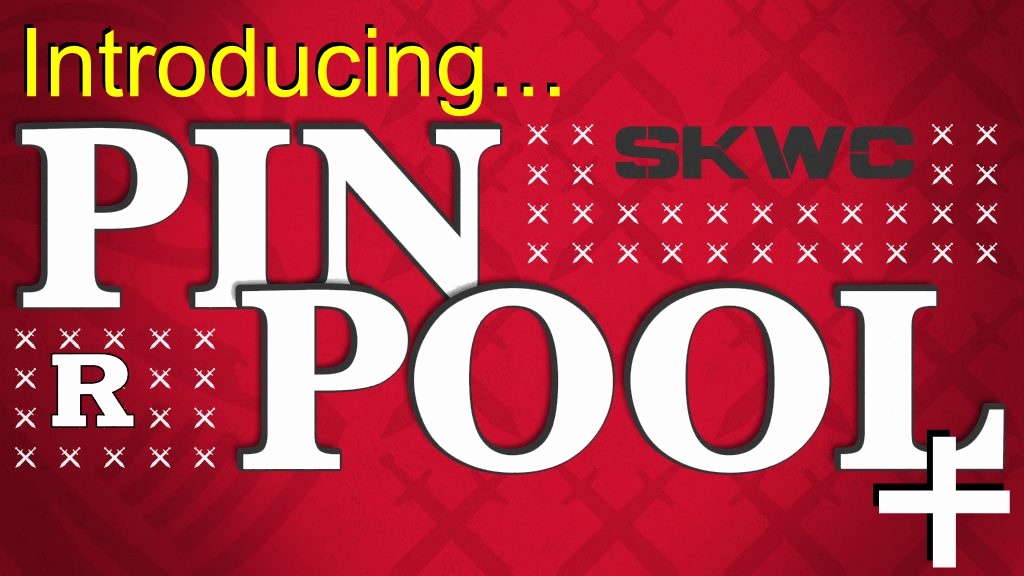 PinPool+ has been added after listening to our members. The PinPool+ allows a participant to prepay for 50 pins at 4 different dollar levels. The donated amount is fixed regardless of the number of pins scored. There are exclusive benefits available to those who choose to participate in the overall PinPool in this way.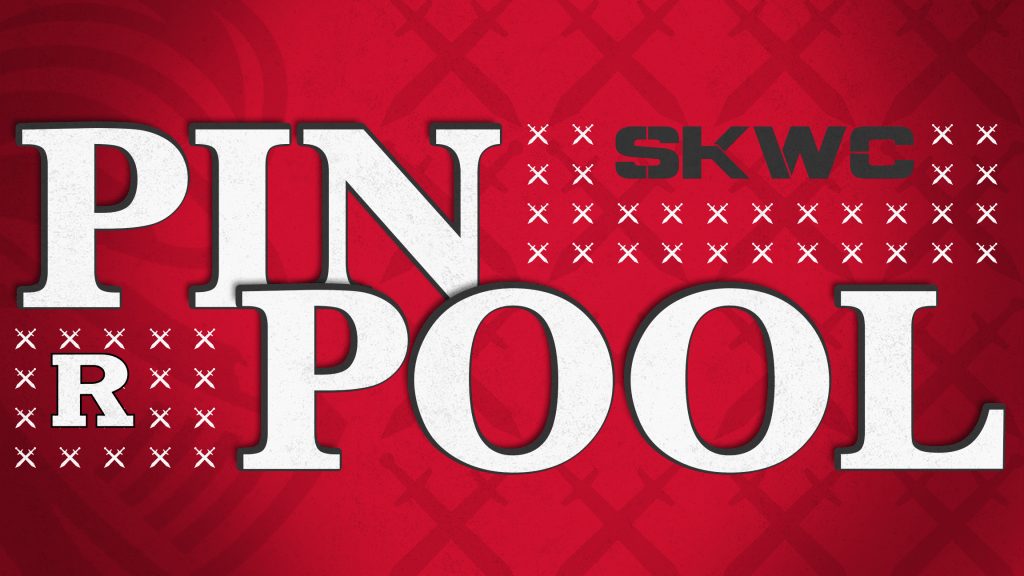 The traditional Pin Pool rules are simple. Participants pledge a fixed amount per pin. Any time that a Rutgers wrestler on the roster scores a pin in competition it counts towards the Pin Pool. Only pins recorded at an NCAA sanctioned event will add to the pin total for the season. The season concludes with the NCAA tournament.
At the end of the season, all participants in the PinPool will receive an invoice of the amount owed for their pledge.
All paid pledges of $5 and above in the traditional PinPool, and PinPool+ members
will receive the iconic SKWC PinPool tee shirt at the conclusion of the NCAA season.
General Information:
When registering please indicate your consent to be listed as a PinPool participant
Should you have any questions please contact us at

[email protected]

.
Our goal is to build a top RTC that will enable our wrestlers to train for Olympic, world, and national competitions.
The Pin Pool rules are simple. Participants pledge a fixed amount per pin. Any time a Rutgers wrestler scores a pin it counts as a Pin Pool pin. Our wrestlers compete in both duals and open competitions over the course of the season. Falls by Rutgers wrestlers scored while while in their redshirt year count toward this total. Periodic updates will be sent to Pin Pool members over the course of the season. This is the 12th edition of the Pin Pool.
Pin Pool donations are tax deductible in accordance with IRS rules.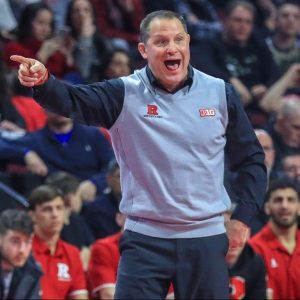 At the conclusion of the NCAA championships in March you will be sent a notice of the amount due calculated by multiplying the number of qualifying pins by your pledged amount per pin. A link that will enable you to pay online using a credit card will be included with the notice of amount due.
If neither the PinPool+ nor the traditional PinPool programs meet your needs to support the SKWC we offer you the option of donating an amount which fits all budgets. We value all our supporters and would never exclude anyone from being part of our family.
2023-24 General Donation click here: https://app.donorview.com/p6OOg
We are gearing up for another historical season on the Banks!
Red Team Up Stream!
Thank you for your support!
Sincerely,
Scarlet Knights Wrestling Club
Send Pin Pool questions to [email protected]
---
Pin Pool Wall of Fame
2023-2024 is the 12th year of the Pin Pool!
AS OF: December 11, 2022
20 NOVEMBER 2023 — NOTE: THE WALL OF FAME IS BEING UPDATED AND SHOULD BE CURRENT SOON

Please renew for 2023-2024 and then your years — # appearing superscripted next to your name – will be updated.
The SKWC greatly appreciates your loyalty to the Pin Pool!
Superscripted numbers next to names represent the years participating in the Pin Pool. We appreciate your loyalty!
Welcome Back to the Pin Pool!
Martin Allen 4
Ronald Blandon 2
Tim Burklow Sr. 10
Kevin Burkert 2
Dayna Burnworth 2
Joseph Cammarota 2
Tom Caravela8
Edward Carney 2
Jenny Carney 2
Thomas Carr 3
Alex Caruso 8
Jim & Renee Curran 6
Barry Dambach 4
Roy DeBoer2
Desantis Family 2
William Dibble2
Frank Dipiano 2
Robert Dunbar 6
Michael Durso 2
Brent Ekstedt 6
Robert Ellsworth 2
Joe Fasulo5
Michael Fierro5
Donna Gapas LCSW 8
William Garbarini11
Karen Goodale 11
Ken Grispin 5
Aaron Gross 6
Russ Gutter4
Robert Haley 2
Theo Hardies5
Kevin Hargadon2
William Harle 2
Steven Hayes3
William Hoffman 11
Kirk Holderbaum9
Garry Holliday 4
Kevin Kenny 8
Richard Knoblock 5
Tom LaBue9
Gregory Lagakos 4
Ray Lijo 11
Ron Lockman 6
Tim Madden 6
David Marr 5
Mike Messner 8
Brian Miller4
William Moses 5
Leon Mowadia 11
Enzo Nini 6

Dennis & Judy ONeill4
Jack Oujo 2
James Pagano 7
William Paladini 5
Chris Peake 10
Adam Petsko 4
Edward Pritzlaff 3
Ron Puorro8
David Purdy 2
Robert Rahner4
Keith Reinhard 2
Lawrence Rizzo3
Matthew Sagui 8
Ron & Diane Shimanowitz 8
Steven Simminger 3
Mick & Barb Simmons 6
Richard Stanzione 2
Beverly Stott8
Ronald Stott2
David Watson2
John Welch 9
Michael Whalen2
Adam White5
Stan Winkler 5

---
Welcome to the Pin Pool!
Brad Adams
Andrew Atkins
Roy Baker
Nicholas Black
Jacqueline Bonforte
William Carlock
Peter & Janine Casale
Dean Colucci
Cory Cooperman
Linda Corsini
David Drake
Kevin Engelman
Mark Fitzgerald
Jeff Full
Steven Gachineiro
Mark Gantner
Marc Greenberger
Nicholas Heilmann
Alex Holderbaum
Art Johnson
Robert Kelly
Wayne Kenny
Kyle Kiss
William L Kiss
Michelle Kurzer
Michael Liguori

Katelyn Lord
Cliff Malone
Gino Marchetti
Jennifer Margary
Ralph Meade
Mark Mucciacciaro
Kim Mytych
Nicole Necci
Michael Nicosia
Carly Northup
Marie Pepe
Kevin Pollard
John & Angela Poznanski
Laureen Ramirez
Frank Redmond
Chad Schuman
Kevin Scott
Joseph Swirble
Elizabeth Tirrell
William Walsh
Matt Whitney
YOUR NAME HERE!
2023-2024 Pin Pool Registration :
Register Here

---
Pins to date:
22!!!

this season's goal IS

50

!
Pin Board
TEAM
PIN & DATE
11/3 Duke

1.
2.
3.
4.

11/3 Cal Poly

5.
11/5 (Princeton Open)
6. NYU
7.
8. West Point
9. Princeton
10. West Point
11. Bloomsberg
12. West Point
13. JWU
14. West Point
11/19 (Black Knight Invite)
15. Gardner Webb
16. UNCO
17. Michigan State
18. LIU
19. Army
20. Army
21. Binghamton
22. Michigan State

B1G Tournament
NCAA Tournament
WEIGHT &
WRESTLER (Pins to Date)
125 Dean Peterson (1)
133 Dylan Shawver (1)
184 Brian Soldano (1)
Luke Gayer (1)
141 Mitch Moore (1)
133 Devon Britton (1)
133 Devon Britton (2)
141 Joey Olivieri (1)
149 Sebastiano Nini (1)
157 Dylan Weaver (1)
157 Dylan Weaver (2)
197 Hayden Packer (1)
285 John O'Donnell (1)
285 John O'Donnell (2)
133 Dylan Shawver (2)
133 Devon Britton (3)
149 Michael Cetta (1)
165 Anthony White (1)
197 Hayden Packer (2)
285 Yaraslau Slavikouski (1)
285 John O'Donnell (3)
285 John O'Donnell (4)

FALL
TIME

1:57
5:37
2:57
__
3:13
3:42
0:53
6:56
1:49
2:04
3:30
6:24
2:23
1:54
3:24
4:29
0:20
6:42
4:24
4:33
1:34
4:33
---
Pin Pool History:
(record)
SEASON
2023-2024
2022-2023
2021-2022
2020-2021
2019-2020
2018-2019
2017-2018
2016-2017
2015-2016
2014-2015
2013-2014
2012-2013
PINS
22


77
49
4
54
47
37
49
47
55
35
35
PLEDGED/PIN
$

$1450
$2993
$2165
$2434
$2704
$1862
$1329
$1164
$714
$411
$265
PARTICIPANTS
TBD
131
154
89
194
217
126
Remaining Matches:
DECEMBER
1 | at Edinboro – 7 p.m.
8 | PRINCETON – 6 P.M.
10 | BUFFALO – 2 P.M.
JANUARY
6 | at Penn – 7 p.m.
7 | RIDER – NOON
12 | INDIANA* – 7 P.M.
14 | at Purdue* – 1 p.m.
19 | at Michigan State* – TBD
21 | at Michigan* – 1 p.m.
27 | MINNESOTA* – 1 P.M.
FEBRUARY
4 | OHIO STATE* – 1 P.M.
12 | at Penn State*! – 7 p.m.
16 | MARYLAND* – 7 P.M.
21 | BLOOMSBURG – 7 P.M.
MARCH
9-10 | at Big Ten Championships – All Day
21-23 | at NCAA Championships – All Day