Club News
Learn more about this SKWC Golf Outing! Registration open NOW!
By securing both 250 total SKWC members, and $2,500 "per pin" total in Pin Pool pledges by December 31,2018, three anonymous supporters will donate $30,000 in total to the SKWC.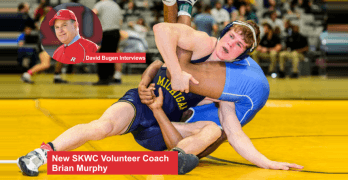 The SKWC's David Bugen interviews Brian Murphy, the new Volunteer Coach.
Team News
Upon Anthony Ashnault's return from Central Asia representing Athletes in Action, the SKWC's David Bugen had the opportunity to catch up with him shortly after his plane landed. Anthony was the only member of the USA team that went undefeated during the tour.
A national finalist, two All-Americans, and the best team finish in program history, as the Scarlet Knights broke its program point record with 42.5 team points for an 11th-place team result.
Five Scarlet Knight Grapplers to appear on prestigious list. Gravina, secured a sixth year of eligibility earlier this season and will compete for the Rutgers wrestling program during the 2018-19 campaign.
Posts with Video
At 70 kg, Richard LEWIS (USA) grinded out a 3-1 win against Kumar VINOD (IND) to claim a World gold medal in his first international tournament.
Richie Lewis aka R.L. Savage completely embodied his alter ego as he clawed his way to the gold medal at the U23 Freestyle World Championships in Bydgoszcz, Poland, on Sunday.
The coach and leader of the UF Wrestling Team (04-07) taking on Damin Hahn at the 2002 NCAA Div.I National Championships. This is the semi-final consolation round. Winner goes in for 3/4th.