To Wrestle with the SKWC Click Here
2018-2019 SKWC Membership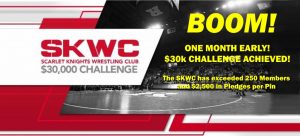 YOUR PARTICIPATION SUPPORTS:
ELIGIBLE RUTGERS ATHLETES TRAINING WITH SENIOR LEVEL ATHLETES
HOUSING FOR RESIDENT ATHLETES
COMPENSATION FOR SKWC COACHES AND STAFF
RESIDENT ATHLETES COMPETING ON USA AND WORLD STAGES
HELP RUTGERS WRESTLING BRING HOME CHAMPIONSHIPS!
Annual SKWC membership will be for the year
beginning November 1 and ending on October 31.

The Club will hold 2 members-only meetings per year. The meetings will feature presentations along with question and answer sessions. Presentations will be made by the Rutgers Wrestling coaching staff, SKWC resident athletes, SKWC officers, and other prominent members of the wrestling community.
Membership benefits are as follows:
B1G Champion ($25 annual dues):
Membership card
20% discount on regular priced apparel at Scarlet Fever in New Brunswick.
Invitation to SKWC member meetings
Priority to purchase tickets for the Rutgers Wrestling annual banquet.
Priority to purchase tickets to SKWC socials
NCAA Champion ($150 annual dues)
Includes all B1G Champion benefits plus:
One complimentary ticket to the Rutgers Wrestling team banquet
Attendance at a team practice
Exclusive NCAA preview meeting in the wrestling room with the Rutgers coaching staff.
$125 may be tax deductible in accordance with applicable relevant tax laws.
WHEN REGISTERING PLEASE INDICATE YOUR CONSENT TO BE PUBLICLY LISTED AS A CLUB MEMBER. THANK YOU.
---


Join by Mail: send a check payable to SKWC, Inc. to:
SKWC c/o Harry Turner
130 College Ave.
New Brunswick, NJ, 07901
Please include email and mailing address.
For more info and questions, please email [email protected]