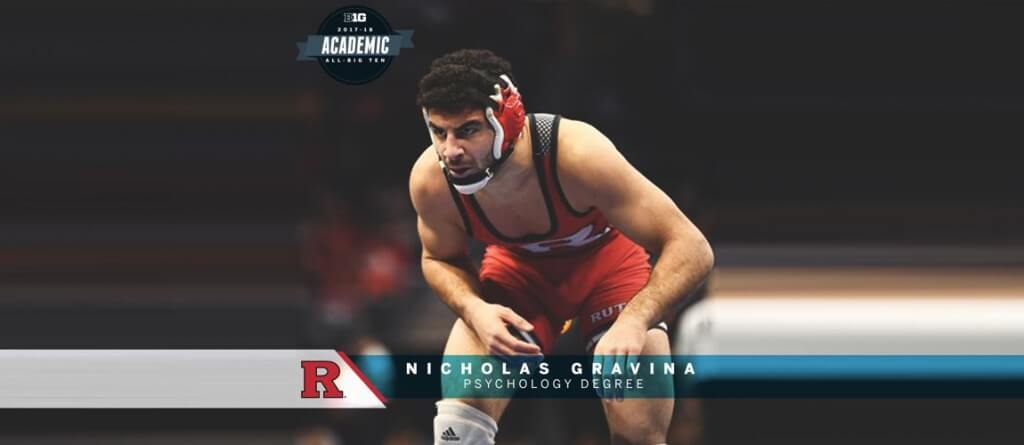 PISCATAWAY, N.J. – Redshirt senior Nicholas Gravina has become the first four-time Academic All-Big Ten selection in Rutgers Athletics' history, it was announced today by the conference. Gravina, who secured a sixth year of eligibility earlier this season and will compete for the Rutgers wrestling program during the 2018-19 campaign, has maintained over a 3.00 GPA in each of the past four seasons. Gravina has already earned his bachelor's degree in psychology and is working towards a master's degree in counseling psychology.
Gravina is one of five Scarlet Knight grapplers named a 2018 Winter Academic All-Big Ten selection, joining Brett Donner (Exercise Science and Sports Studies), Jordan Pagano (Psychology), John Van Brill (Human Resource Management) and Michael Van Brill (Human Resource Management).
To be eligible for Academic All-Big Ten selection, students must be on a varsity team, as verified by being on the official squad list as of March 1 for winter sports, who have been enrolled fulltime at the institution for a minimum of 12 months and carry a cumulative grade-point average of 3.0 or higher.
"Nick is everything you would ever want in a student-athlete," said head coach Scott Goodale. "He does everything right, works hard both in the classroom and on the mat, and is a tremendous student-athlete."
A three-time NCAA qualifier, Gravina picked up two wins last week at the 2018 NCAA Championships in Cleveland. Gravina, who also collected three wins at the 2018 Big Ten Championships earlier this month, closed out the regular season with a 14-3 record, which included a 6-1 mark in Big Ten dual action and victories over two top-10 opponents in No. 7 Taylor Venz (Nebraska) and No. 9 Ricky Robertson (Wisconsin).
Wrestling produced its best team finish at the NCAA Championships, finishing 11th with 42.5 points last weekend. The historic result also included the program's first national finalist in Nick Suriano as well as a sixth-place finisher in Scott DelVecchio, as the Scarlet Knights earned multiple All-Americans for the third consecutive year under Goodale.
Prior stories of Academic All-Big Ten Selections:  2016 | 2017