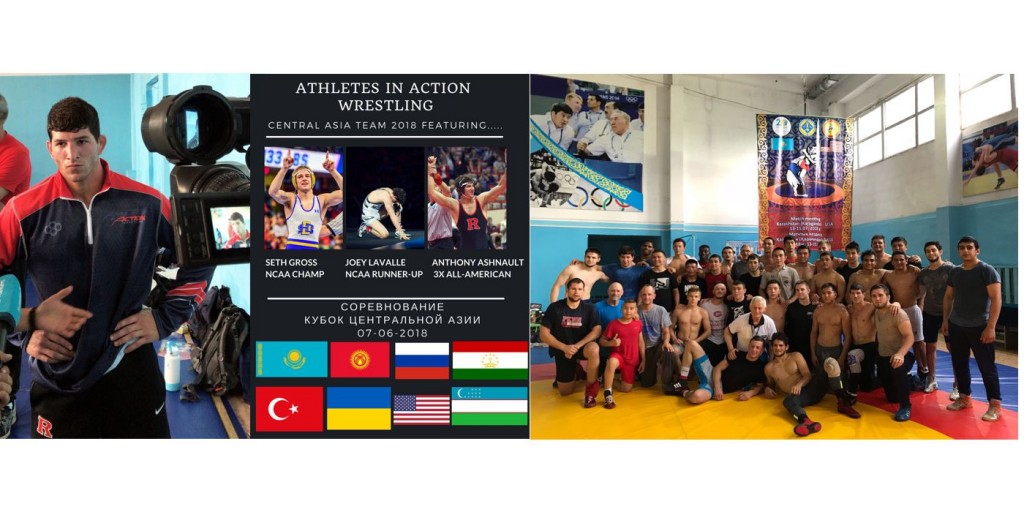 Upon Anthony Ashnault's return from Central Asia representing Athletes in Action, the SKWC's David Bugen had the opportunity to catch up with him shortly after his plane landed. Anthony was the only member of the USA team that went undefeated during the tour.
---
David: Welcome back to America. I heard it was a long flight.
Anthony: Thanks. It was a great experience. I am sure glad to be home as weather diverted us. It took over twenty hours to make it make back.
David: How did this trip come about?
Anthony: Prior to September, I had attended AIA meetings on a sporadic basis. After my surgeries last summer, I was really struggling. I wasn't sure if I would ever wrestle again and wondered if I would have a chance to achieve my dreams of becoming a national and world champion. So I started to attend weekly AIA meetings at Rutgers. The meetings helped my mind to become more centered. In the spring, Rob Brunson, Co-Director of Athletes in Action, reached out to me and asked if I wanted to participate in a summer wrestling trip to Asia.
David: Did you immediately sign up?
Anthony: Actually, I was on the fence. I was preparing to return to the mat and planned to win the US Open. Unfortunately, my results were below expectations. After the Open, I recognized that the trip could be a great opportunity to improve my wrestling against some of the best kids in the world as well as help to promote my faith. I was excited to connect with and share beliefs with top American wrestlers as well as live with wrestlers from Central Asian countries.
David: Can you tell us a little about AIA?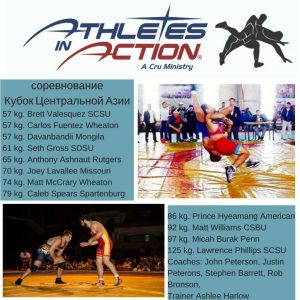 Anthony: Athletes in Action is a faith-based organization that uses sports as a platform to help people answer questions of faith. AIA believes that sports have the power to open doors and create connections in a way that few other things can. AIA uses the universal language of sports to connect with athletes and coaches in more than 65 countries. Over 800 student athletes and coaches participate in athletic camps, projects, and domestic and international sports tours each year.
David: Who were your coaches and which American athletes did you connect with?
Anthony: Our coaches were great. The main two coaches were John Peterson who won a gold medal in the Olympics and Steve Barrett who was a NCAA Champion for Oklahoma State. I roomed with Seth Gross last year's NCAA champ from South Dakota State and Joey Lavallee, a national runner-up from Missouri. We had a blast. It was great to share life experiences, wrestling techniques and our faith together. I also hung out with Micah Burak who was an All American from Penn.
David: What was your interaction with the wrestlers from the Asian countries?
Anthony: We basically lived, ate, and trained with the wrestlers from Karaganda. It was hard adjusting to the food, but it made it easier to make weight. We used Google translate to communicate. While we were not allowed to preach, we focused on connecting and forming relationships with our competitors.
Living with these wrestlers was eye opening. It helped me realize and appreciate how good we have it in America. Their training equipment was old and limited. They had to wash their own clothes in a sink and hang them to dry. I will no longer complain if our equipment manager is late with our laundry. I gave one wrestler an old wrestling T-Shirt and he wore it every day to practice.
The wrestlers were so grateful that we were there.
David: What did you learn from a wrestling standpoint?
Anthony: Every day there was usually a clinic with instruction. One of the instructors was Russian Olympic Gold Medalist Khadzhimurat Gatsalov. He was awesome. After the clinic, we would wrestle and then ask questions. As defense is the strength of these wrestlers, I learned to better understand openings and when to execute my shots.
David: What was the competition like and what did you learn from it?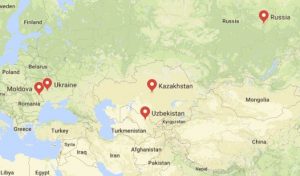 Anthony: We wrestled many of the top junior wrestlers from Russia, the Ukraine, Kazakhstan, Uzbekistan, and Moldova. Two of my matches were real barnburners. Some of these kids will wrestle for world championships.
As a result, my confidence level is really high. I know that my body can handle five matches in one day. I am more knowledgeable on how I will approach training for tournaments.
David: You mentioned it was easier to make weight as adjusting to the food was difficult. What did you eat on a typical day?
Anthony: Breakfast was two hard-boiled eggs, cheddar cheese, and stale bread. Lunch consisted of horsemeat stew, cabbage soup, and maybe some chicken. For dinner we could expect vegetables, stale bread, and chicken, goat, or horsemeat drum sticks. One night we went to a nice restaurant and had lamb kebob on a stick.
David: After training and wrestling with world class athletes in Central Asia, what would you tell your Rutgers teammates?
Anthony: Guys be grateful for the opportunities we have at Rutgers. We have all the tools to be champions – far more than what exists in Asia. They wear one or two sets of clothes and have to do their own laundry. They lack strength and conditioning coaches and the appropriate equipment. Training and scouting videos provided by Flo are non-existent. And, we have access to nutritionists to support a healthy diet.
David: How was your trip paid for?
Anthony: The SKWC contributed to Athletes in Action in support of my trip. Without the support from the SKWC, I would not have been able to go.
I want to thank everyone who supports the SKWC and ask our fans to continue to provide support by making a Pin Pool Pledge and by joining the SKWC. I commit to work hard both on and off the mat so fans will be proud that they contributed.
David: Anthony, before we conclude, do you have any other thoughts?
Anthony: This was a most eye-opening experience. Not only did I improve my wrestling skills, I also became a more rounded individual and learned to take advantage of opportunities when presented.
Most importantly, I am so grateful that I have a family that fully supports my dreams and goals.
Thank you and Go RU!
---
Please enjoy the linked youtube video of one of Anthony's matches from Central Asia.
Related story: Ashnault Travels to Kazakhstan with Athletes in Action
Follow AIA Wrestling on Twitter: https://twitter.com/AIAWrestling