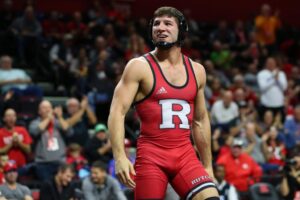 A Message From Anthony Ashnault:
Dear Friends,
I am thankful for the opportunity to have wrestled for Rutgers and the Scarlet Knights Wrestling Club (SKWC). This experience represented some of the best years in my life. The support provided by the SKWC has given me the opportunity to achieve my dreams. I will be forever grateful.
My dreams are not over! I aspire for Olympic Gold, to develop younger wrestlers who train with the SKWC, and eventually to be a coach.
We all want Rutgers to win a Team Trophy (a top four NCAA finish) and a National Championship. To achieve these goals, the SKWC needs to fund the Rutgers Volunteer Coach, Recruiting Coordinator, our Resident Athletes including myself, partially fund the Rutgers Director of Operations, pay for international training trips, and support our mentoring programs.
Elite recruits ask which Resident Athletes will be their training partners. The best programs support senior level Resident Athletes who can train with eligible wrestlers. Elite recruits, the ones we need to target and secure, want to train with Olympic and World Team caliber athletes.
The financial strength of the SKWC is vital so we can retain and attract future World and Olympic Team Members. The SKWC supports my efforts to make the Olympic Team.
Please contribute to the SKWC. There are opportunities for every fan from joining the SKWC to contributing to our endowment.
Please consider a pledge to the PIN POOL, join the BOOM CLUB, or becoming a Member of the SKWC.
If you have contributed to the SKWC, thank you for your support. I want Rutgers wrestling to be the best in the land. With the support of all fans we will do it!
Please reach out to David Bugen with any questions. For more information on ways to donate visit here!
Happy Thanksgiving and I hope to see you at the RAC!
Anthony Ashnault