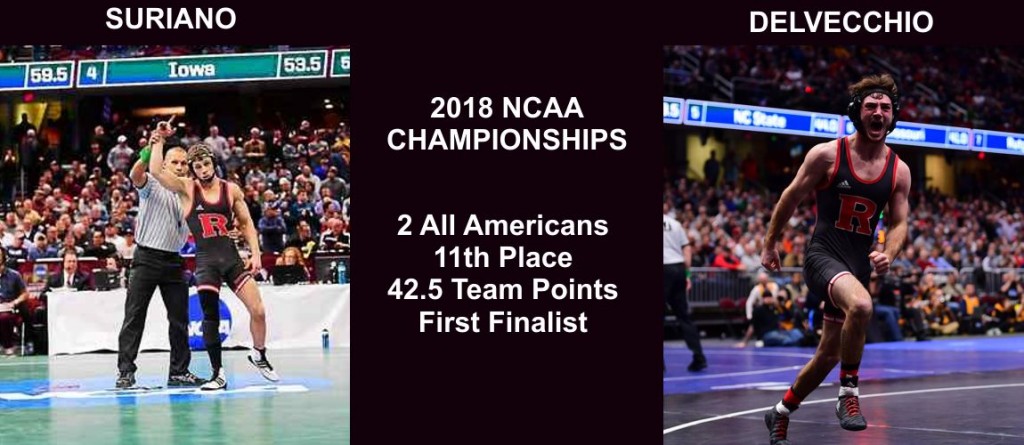 CLEVELAND – Rutgers wrestling closed out a historic run at the 2018 NCAA Championships with a national finalist, two All-Americans and a 11th-place team result Saturday at Quicken Loans Arena in Cleveland. No. 4 Nick Suriano (125) finished as the national runner-up at 125 pounds and Scott DelVecchio (133) placed sixth at nationals to give head coach Scott Goodale multiple All-Americans for the third consecutive season.
Suriano's run to the national final capped the program's best team finish in program history, as the Scarlet Knights placed 11th as a unit with 42.5 team points. The mark topped the team's 30-point result at the 2016 NCAA Championships in New York City two seasons ago.
Six Scarlet Knights contributed 19 victories during the three-day tournament, as DelVecchio became the fourth wrestler in program history to go from unseeded to All-American after his 5-3 record at nationals. No. 6 
Richie Lewis
 (3-2, 165 pounds), No. 15 
John Van Brill
 (2-2, 157 pounds), No. 14 
Nicholas Gravina
 (2-2, 184 pounds) and 
Eleazar DeLuca
 (2-2, 149 pounds) all collected at least two wins for the record-setting team performance.
"We wrestled really well here," Goodale said. "We brought six guys here that all won a ton of matches. We have two All-Americans, but any coach will tell you we want more. We have to keep chasing this trophy at the national tournament and our staff is going to work extremely hard and our guys know where this thing is going. We'll get everyone on board and get everyone here next year."
In the national final at 125 pounds, Suriano squared off with No. 3 seed Spencer Lee of Iowa, who entered the title match with a 21-2 record as a true freshman. Suriano produced several shots in the opening three minutes, but Lee's takedown in the closing seconds of the period game him a 2-0 advantage. Lee then earned an escape in period two and added one final takedown on Suriano in period three for a 5-0 lead. Suriano escaped to put a point on the board, but Lee held on for the win.

But the amount of exposure Suriano brought to the program will cement him in Rutgers lore, as the sophomore exits Cleveland as the highest finisher at NCAA's in Scarlet Knight history. He wrestled in front of 19,776, the highest crowd for a national final in the tournaments history.
"I'm blessed [to represent Rutgers on this stage]," Suriano said. "I'm blessed. I got beat, but I'm blessed. I'm a blessed man and I'm honored to take my loss like a man. I don't need to make excuses. I've been through some stuff the past month, but hats off to my opponent."
The Paramus native and former Bergan Catholic star was dominate in previous four bouts on the championship side of the bracket, not conceding a takedown during his run to Saturday night's final. In his four previous bouts, Suriano outscored his opponents, 37-0, with a pin, tech fall and major decision en route to earning 20.5 team points for Rutgers.
"He's on the national stage with a block R, so it's great for Rutgers, "Goodale said. "We were chasing that national title, so it stings a little bit, but right now in the grand scheme of things, our guys represented this University and the Athletic Department really well this weekend."
Suriano and DelVecchio both locked up All-America honors on Friday after DelVecchio earned a stunning come-from-behind win over No. 7 Anthony DeSanto (Drexel) in sudden victory. DelVecchio then secured his spot in the medal round a win over No. 6 Scott Parker (Lehigh), dropping back-to-back bouts to finish sixth at the national tournament. DelVecchio's appearance on the podium game the program multiple All-Americans for the third consecutive season and eight since 2014.