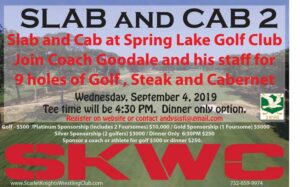 I would like to invite you to our second annual Slab and Cab Golf Outing at the Spring Lake Golf Club. It will be held on September 4th and will include nine holes of golf, steak, cabernet, as well as networking with coaches and SKWC supporters. This exclusive event is limited to 48 golfers. Tee time is 4:30pm.
The proceeds from the outing will support the SKWC Resident Athletes. Our elite athletes train and compete in order to win Olympic and World Championships. Resident Athletes play a critical role in the success of Rutgers Wrestling as our eligible student athletes can practice with World Class athletes.
Rutgers wrestling has come a long way and we have further to travel. This year was an historic year with our first two national champions, a 9th place team finish at the national tournament and Coach Goodale earning the 2019 Dan Gable Coach of the Year award. In addition, Flo Wrestling ranked our incoming recruiting class as # 4 in the country.
Our SKWC/NJRTC athletes have achieved phenomenal success with Pat Downey and Tyler Graff becoming World Team Members and Anthony Ashnault making the National Team. In September, Graff and Downey will represent the USA as we compete for the World Championship in Kazakhstan.
Please see the attached graphic describing the outing. I hope that you will consider a sponsorship, participate as a golfer, or join us for dinner. Please reach out to me with any questions by email at [email protected] or call me at 732-859-9974.
In the event of inclement weather the dinner will be held. Gifts will be distributed. Fees cannot be refunded.
I look forward to seeing you on September 4th.
Andy
Slab and Cab Golf Chairman
When
Wednesday, September 4, 2019 from 4:30 PM to 9:30 PM EDT
Add to Calendar
Where
Spring Lake Golf Club
901 Warren Ave, Spring Lake, NJ 07762

Sponsorship Details:
Platinum Sponsor – $10,000
o 2 Foursomes
o Back cover recognition on program
o 3 signs around the course
o Recognition at the dinner
o A day of golf at Spring Lake with Scott Goodale, Andy Sisti and a guest
· Gold Sponsor – $5000
o 1 Foursome
o Ad in program
o 2 signs around course
o Recognition at the dinner
· Silver Sponsor – $2500
o 2 golfers
o Ad in program
o Signage at course
o Recognition at dinner
· Dinner Sponsor – $2500
o Banner at dinner
o Signage on course
o Ad in program
o Recognition at dinner
· Beverage Cart Sponsor – $1500
o Signage on course
o Ad in program
o Recognition at dinner
· Gift sponsorship – $1000
o Signage on course
o Ad in program
o Recognition at dinner