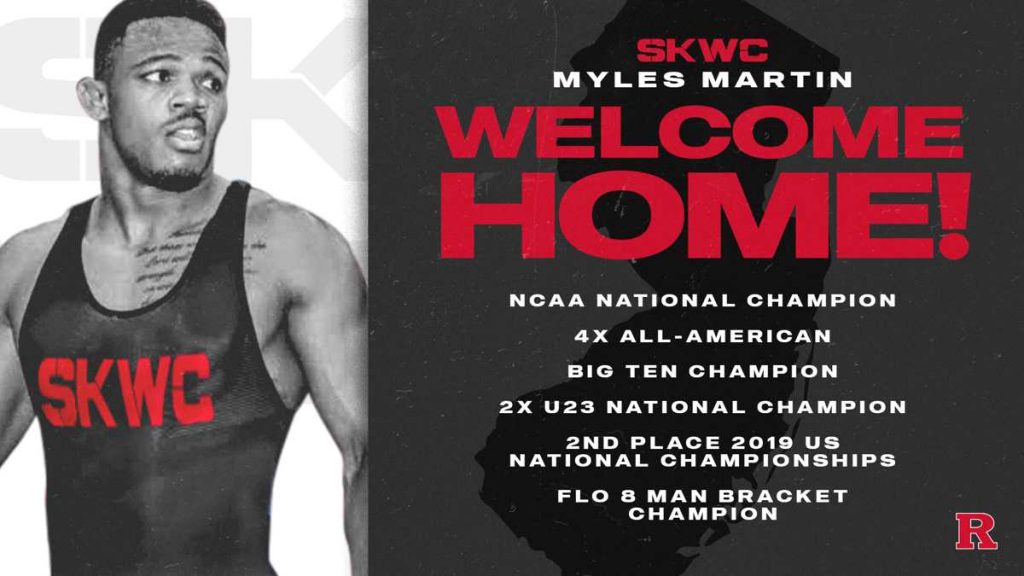 There is more good news to add to Rutgers University Wrestling team achieving three All-Americans in the same year for the first time. The Scarlet Knights Wrestling Club (SKWC) is pleased to announce that Myles Martin is coming home to become an SKWC Resident Athlete starting in June 2021. Myles recently took a bronze medal at the prestigious Matteo Pellicone Ranking Series tournament in Italy on March 7 and will compete at 86 kilograms (190 pounds) at the U.S. Olympic Trials in April.
Born and raised in Penns Grove, New Jersey, Myles was a stand-out high school prep athlete in Maryland. After a stellar 171-15 high school record, Myles enrolled at Ohio State University in 2015 as the No. 1 recruit in his weight class and the No. 3 overall nationally ranked recruit. At OSU, Myles achieved a number of career honors including winning the 2016 NCAA Championship at 174 pounds as a true freshman. Myles had an outstanding collegiate career starting at 174 pounds, then moving to 184 pounds. His honors include being a 2x NCAA Finalist, a 4x All-American, and a UWW University Nationals Champion. Myles has been wrestling freestyle at the senior level since 2017, competing at 86 kg (190 pounds). Some of his freestyle honors include the U.S. University National Champion, the U.S. U23 National Champion, and earning a spot on the U.S. U23 World Team. In January 2020, Myles won his first Gold medal in an international tournament at the Grand Prix of France. In March 2021 Myles claimed a bronze medal at the prestigious Matteo Pellicone Ranking Series tournament. Myles is currently in training for the U.S. Olympics Trials in April and is focused on achieving his dream to represent the USA at the upcoming Summer Olympic Games.
Rutgers University Wrestling Coach Scott Goodale stated "Myles has competed at the highest levels for over a decade and is now a world class competitor who will make the SKWC's internationally accomplished resident athlete lineup even stronger."
SKWC Co-Presidents Tom Perrotti and Josh Gross added, "The SKWC is undergoing a period of amazing growth and transformation. We look forward to having Myles Martin come home to New Jersey to join our competing Resident Athlete program. Myles is an outstanding person, both on and off the mat. We see him as a key part of the SKWC future for years to come."
SKWC – The mission of the SKWC is to support Rutgers University's wrestling program and enhance the ability of fans to experience an elite level of wrestling and entertainment.
Support us at https://scarletknightswrestlingclub.com/donate-to-skwc