WRESTLING PICKS UP FOUR WINS AGAINST NO. 8 VIRGINIA TECH AT JERSEY MIKE'S ARENA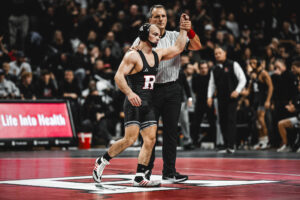 PISCATAWAY, N.J. – The SKWC faithful enjoyed an exciting weekend of wrestling, as more than 5,000 fans packed Jersey Mike's Arena this past Friday to watch No. 13 Rutgers wrestling compete against No. 8 Virginia Tech. Though the Scarlet Knights lost to the Hokies, 19-12, RU secured for individual wins, including ranked victories from No. 6 Dean Peterson (125), No. 6 Yaraslau Slavikouski (HWT) and No. 8 John Poznanski (197).
RU was tied with Virginia Tech through the first four bouts of the night, which included a top-15 victory for Peterson against a 2023 All-American and a decision from No. 15 Mitch Moore (141) in his Jersey Mike's Arena debut. The Hokies used wins in their next five matches through 184 pounds to secure the road dual victory.
"It was a great crowd, great atmosphere and we were fired up about it," said head coach Scott Goodale. "I truly believe we prepared really well and our guys were into it. There was excitement around campus. It was all good. The fan base was fired up. It is about scoring points, and we didn't do enough of it. So that is the frustrating part. It was a lost opportunity, that is a great way to characterize it."
Box Score
No. 8 Virginia Tech 19, No. 13 Rutgers 12
125: 6/8 Dean Peterson (RU) over 15/18 Eddie Ventresca (VT) by decision, 2-0; RU leads, 3-0
133: 6/5 Sam Latona (VT) over 15/18 Dylan Shawver (RU) by SV1, 4-1; RU tied, 3-3
141: 15/18 Mitch Moore (RU) over Mac Church (VT) by decision, 2-1; RU leads, 6-3
149: 4/4 Caleb Henson (VT) over 23/33 Jacob Butler (RU) by decision, 5-1; RU tied, 6-6
157: 5/5 Bryce Andonian (VT) over Al DeSantis (RU) by MD, 13-5; VT leads, 10-6
165: Rafael Hipolito Jr. (VT) over 22/27 Anthony White (RU) by decision, 13-7; VT leads, 13-6
174: 3/3 Mekhi Lewis (VT) over 26/26 Jackson Turley (RU) by decision, 8-3; VT leads, 16-6
184: 21/20 Sam Fisher (VT) over 9/7 Brian Soldano (RU) by decision, 10-9; VT leads, 19-6
197: 8/13 John Poznanski (RU) 16/18 Andy Smith (VT) by decision, 4-2; VT leads, 19-9
HWT: 6/7 Yaraslau Slavikouski (RU) over 18/19 Hunter Catka (VT) by decision, 4-1, VT wins, 19-12
CARTAGENA-WALSH, YARASLAU SLAVIKOUSKI CLAIM INDIVIDUAL TITLES AT BLACK KNIGHT INVITATIONAL
PISCATAWAY, N.J. –No. 6 Yaraslau Slavikouski (HWT) and Shane Cartagena-Walsh (174) earned individual titles for No. 13 Rutgers wrestling at the Black Knight Invitational on Sunday in West Point, New York. In total, 10 Scarlet Knights placed within the top six of their respective weight classes.
Slavikouski registered two tech falls and a pin to advance to the finals against No. 23 Cory Day (Binghamton). There, Slavikouski earned a takedown in the second period en route to a 5-2 decision over Day – his second win over a ranked foe this weekend after he defeated No. 18 Hunter Catka on Friday against No. 8 Virginia Tech.
Wrestling unseeded, Cartagena-Walsh opened the day with a decision and major decision to secure his spot in the semifinals against No. 3 seed Marcus Petite (Buffalo). Cartagena-Walsh landed three takedowns against Petite to produce a 10-4 decision, advancing to the 174-pound final against Dillon Sheehy (Army). Tied 1-1 in tiebreakers, Cartagena-Walsh earned a takedown for the win in the title bout.
No. 15 Dylan Shawver (133) finished third, while No. 22 Anthony White (165), No. 23 Jacob Butler (149), Devon Britton (133) and Al DeSantis (157) all placed fourth. Michael Cetta (149) and John O'Donnell (HWT) all won their fifth-place matches. Joe Fongaro (141) finished sixth.