Support Rutgers Wrestling and amateur wrestling in New Jersey. Become a Rutgers Wrestling season ticket holder, attend high school and youth matches, and join the Scarlet Knights Wrestling Club!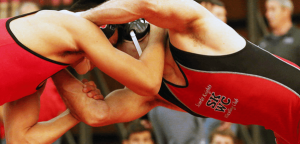 SKWC Membership Program 2017-2018
The Scarlet Knights Wrestling Club Inc. (SKWC) was founded in 2011 with the goals of supporting both the Rutgers University wrestling team and amateur wrestling in New Jersey. The SKWC is an independent nonprofit 501(c)(3) charitable organization. In its capacity as a designated Olympic Regional Training Center, the SKWC sponsors resident athletes who live and train in the New Brunswick area as they compete at the senior level.
Our 2017-2018 Resident Athletes are:
Johnni DiJulius
From Aurora Ohio (Walsh Jesuit HS)
4X NCAA Qualifier at Ohio State University
Member of 2015 NCAA championship team
Coached at Kent State University
2017 US Open round of 12
2017 University All-American
Montell Marion
From Des Moines, Iowa (Roosevelt HS)
2nd 2nd 1st 1st Iowa HS States
Placed 2nd,3rd,4th at the Big Ten Championships
91-21 career record
3X NCAA All American at the university of Iowa (2,4,2)
Nebraska RTC member
Terrapin wrestling Club Coach
Taylor Walsh
From Cherry Hill NJ (Camden Catholic HS)
Led CC To 4 straight state championships and won 2 njsiaa individual championships
2015 NCAA runner up
competed in the 2016 Olympic Trials
pinned 18 straight opponents during his collegiate career
2nd season with the SKWC while attending graduate school at Rutgers University.
Harry Turner
From Howell NJ (Howell HS) where he placed 2nd in the 2008 NJSIAA state championships
4 year starter at Lock Haven university where he won 93 matches at heavyweight
Previously coached at Lock Haven and Buffalo where he was instrumental in developing upper weight wrestlers
competes in Greco and Freestyle
SKWC Coaches 2017-2018
Donny Pritzlaff – Head Coach
Joe Pollard – Director of Wrestling Education and Coach
Scott Goodale – Coach
John Leonardis – Coach
Last year we offered supporters of the Rutgers Wrestling program and amateur wrestling in New Jersey the opportunity to become members of the SKWC. Many wrestling fans joined the Club and as a result we were better able to support both the Rutgers Wrestling team and amateur wrestling at the local, national, and international level.
Annual SKWC membership will be for the year beginning November 1 and ending on October 31. Anyone joining prior to November 1, 2017 will be credited with membership through October 31, 2018.
The Club will hold 2 members-only meetings per year. The meetings will feature presentations along with question and answer sessions. Presentations will be made by the Rutgers Wrestling coaching staff, SKWC resident athletes, SKWC officers, and other prominent members of the wrestling community.
Membership Levels and Benefits
B1G Champion
$25 annual dues
include:
Membership card
20% discount on regular priced apparel at Scarlet Fever in New Brunswick
Invitation to the SKWC member meetings
Email newsletter covering Rutgers Wrestling, SKWC activities, B1G news and selected national news.
Priority for away match bus trips (as scheduled)
Priority for Rutgers Wrestling Team banquet tickets
Priority for SKWC NCAA social tickets
Priority for SKWC golf tournament registration
Invitations to SKWC social gatherings as scheduled
Dues are tax deductible
NCAA Champion
$150 annual dues
include all
B1G Champion
benefits
PLUS
:
$125 of dues are tax deductible
One complimentary ticket to Rutgers Wrestling Team Banquet
Attendance at a team practice
Exclusive NCAA preview meeting in New Brunswick with the coaching staff.
First priority for away match bus trips (as scheduled)
First priority for banquet tickets
First priority for SKWC NCAA social tickets
First priority for SKWC golf tournament sign up

Join by mail-send a check payable to SKWC to:
SKWC c/o Billy Ashnault
130 College Ave.
New Brunswick, NJ, 07901
Please include email and mailing address