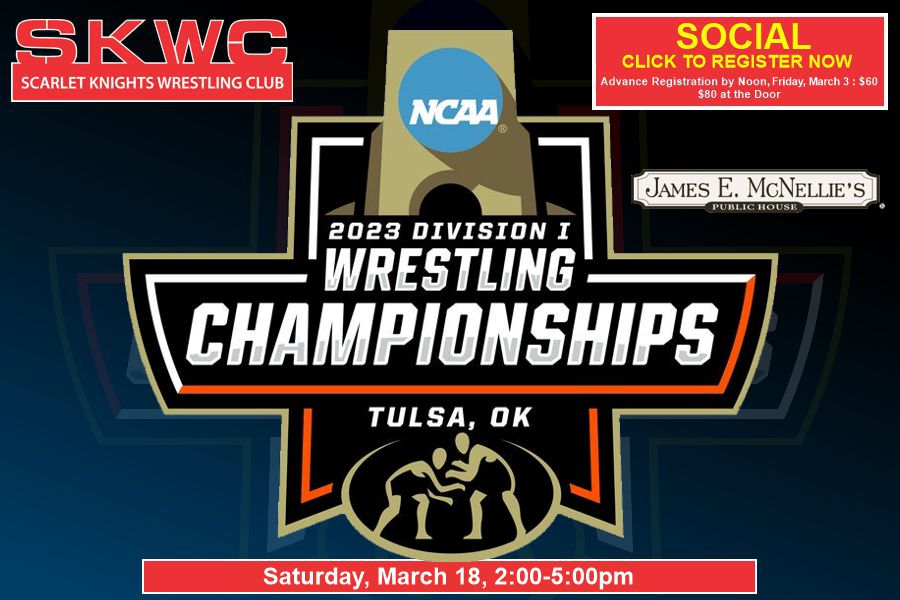 The SKWC will be hosting a social on March 18, 2023 before the final session of the 2023 NCAA Championships in Tulsa.
The event will be held at McNellie's Pub from 2:00PM to 5:00PM:
409 E 1st St
Tulsa, OK 74120
918-382-7468
$60 in Advance; $80 at the Door
Click the link below to register today.
https://app.donorview.com/YZ6mg
---
Rutgers Wrestling fans come and celebrate with members of the Rutgers and SKWC coaching staffs, SKWC Resident Athletes, and SKWC Staff at our social before the final session of the 2023 NCAA Championships in Tulsa.
Registration fee includes Appetizers, Salads, Wraps, Baked Potato Bar, Pastas, Entree Selections, Desserts, and Non-alcoholic Beverages.
Cost for advanced registration is $60. Walk-ups will be charged $80.
4 and under are FREE.
Ages 5-12 are $35.00 or $50 at the door.
Cash bar.
Please note that there is a limited pre-registration window for discounted pricing.
The pre-registration window will close at 12:00 PM on Friday, March 3rd.
---
As the SKWC partially subsidizes the cost of this event to maximize attendance, if you are able to make a donation to help defray the subsidy, we would sincerely appreciate it.
Levels of Sponsorships:
$100 – Sponsor a Coach
$250 – Sponsor a Student Athlete
$500 – NCAA Qualifier Sponsor
$1,000 – All-American Sponsor
$2,500 – NCAA Champion Sponsor
---
Thank you for your support of the SKWC and the Rutgers Wrestling program! We hope to see you out in Tulsa during the Tournament!
Let's go RU!!!
SKWC, Inc.