By Bradly Derechailo / Daily Targum Correspondent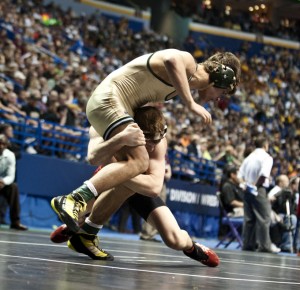 Billy Ashnault swears he is a better wrestler right now than his little brother, Anthony.
But he also knows the potential of arguably the biggest recruit the Rutgers wrestling team has ever landed under head coach Scott Goodale.
"I still beat him," said Billy Ashnault, a former three-time NCAA qualifier and now director of wrestling operations at Rutgers. "He's going to get me sooner or later, but right now he'll admit I still beat him a bit."
Anthony Ashnault, now a senior at South Plainfield (N.J.) High School, signed his letter of intent Friday along with five other grapplers that make up the 11th-best recruiting class for 2013, according to Amature Wrestling News.
The younger Ashnault is the biggest acquisition of them all for Goodale.
Rated a five-star recruit and the No. 28 overall prospect in the Class of 2013, Ashnault currently owns a 130-0 high school record. He will attempt to become the first wrestler in state history to become an undefeated, four-time state champion.
"It is really exciting to go through this in my last year," Anthony Ashnault said. "I just try to take it one day at a time and not overstep my boundaries. I just look forward to each day, and soon enough I'll be at Rutgers."
Billy Ashnault shares the sentiment.
"If he finishes strong and does everything he is supposed to do, I'm sure he is going to be undefeated and a four-time state champ," he said. "He doesn't really look ahead and takes one match at a time. It could not really happen to a better person."
Anthony Ashnault figures to compete at 141 pounds when he arrives next season. Goodale believes his potential is unlimited as far as what he can accomplish on the mat for Rutgers.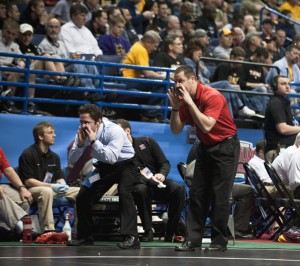 "He has tenacity and the ability and desire to get better every single day," Goodale said. "He lives the lifestyle of someone who wants to win national titles, Olympic gold medals and world championships. Even though he is so successful, he continues to get better."
Billy Ashnault said he was hands-off in the recruiting process with Anthony's decision, admitting he did not even know if his brother was going to commit to Rutgers.
"He could have gone anywhere he wanted," Billy Ashnault said. "I just let him make his own decision and it worked out in the end."
Remaining close to his family played a big part for Anthony, whose sister also goes to Rutgers, he said.
It also did not hurt that one of the Knights' staff members is a three-time NCAA qualifier, and also his brother.
Billy Ashnault compiled 86 wins in his career at Rutgers, with two seasons of 25 or more victories.
The ability to be around him every day and be close to his family is something Anthony Ashnault appreciates.
"He's there for me whenever I want," Anthony Ashnault said. "I'll text him or call him, and if I need a workout, he's there. He tells me if I need to work on one thing or another. I just wanted to be with my family. The whole package is a great deal. I get to be around family and be as comfortable as possible."
As far as catching up to Billy Ashnault, he believes time will tell.
If everything plays out, Anthony Ashnault's older brother will be on the sidelines to see it.
"He's still got me," Anthony Ashnault said. "Hopefully soon enough I'll catch up to him."
For updates on the Rutgers wrestling team, follow Bradly Derechailo on Twitter @BradlyDTargum.