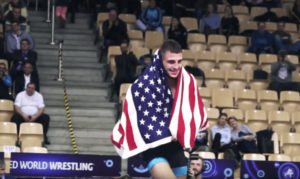 ---
BYDGOSZCZ, Poland – Russia went 2-0 in gold-medal bouts in the final day of the U23 World Championships, while the United States picked up its first medals of the event on Sunday night in Bydgoszcz, Poland.
Nachyn Sergeevitch KUULAR (RUS) was one of two gold medalists for Russia. A two-time World Military World champion, Kuular defeated Bajrang BAJRANG (IND) in the first gold-medal bout of the night, winning with a fast 16-6 technical fall at 65 kg.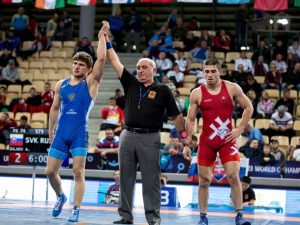 Nabiev won the 2015 Junior World crown and finished second at this year's Russian Championships.
At 70 kg, Richard LEWIS (USA) grinded out a 3-1 win against Kumar VINOD (IND) to claim a World gold medal in his first international tournament.
The U.S. also won two bronze medals to wrap up the tournament, coming from Joseph MCKENNA at 65 kg and Ty WALZ at 97 kg.
Russia won the team race with 55 team points, claiming three gold medals, one silver and one bronze medal over the weekend. Kazakhstan was second with 41 points, followed by Georgia with 36 points.
Finals results
65 kg
Gold – Nachyn Sergeevitch KUULAR (RUS) tech. fall Bajrang BAJRANG (IND), 16-6
Bronze – Joseph Christopher MC KENNA (USA) dec. Heorhi KALIYEU (BLR), 2-0
Bronze – Yones Aliakbar EMAMICHOGHAEI (IRI) dec. Haydar YAVUZ (TUR), 6-4
70 kg
Gold – Richard Anthony LEWIS (USA) dec. Kumar Omprakash VINOD (IND), 3-1
Bronze – Muhammet AKDENIZ (TUR) dec. Zulfikar MAKHAMATOV (KAZ), 4-2
Bronze – Mirza SKHULUKHIA (GEO) dec. Nobuyoshi TAKOJIMA (JPN), 3-0
74 kg
Gold – Gadzhi NABIEV (RUS) dec. Akhsarbek GULAEV (SVK), 7-2
Bronze – Avtandil KENTCHADZE (GEO) tech. fall Isaiah Alexander MARTINEZ (USA), 11-0
Bronze – Vasyl MYKHAILOV (UKR) tech. fall Engin Rashid ISMAIL (BUL), 12-2
97 kg
Gold – Mojtaba Mohammadshafie GOLEIJ (IRI) tech. fall Dzianis KHRAMIANKOU (BLR), 10-0
Bronze – Ty Ryan Jack WALZ (USA) dec. Chaoqiang YANG (CHN), 3-0
Bronze – Murazi MCHEDLIDZE (UKR) dec. Rasul MAGOMEDOV (RUS), 7-2
by Taylor Miller