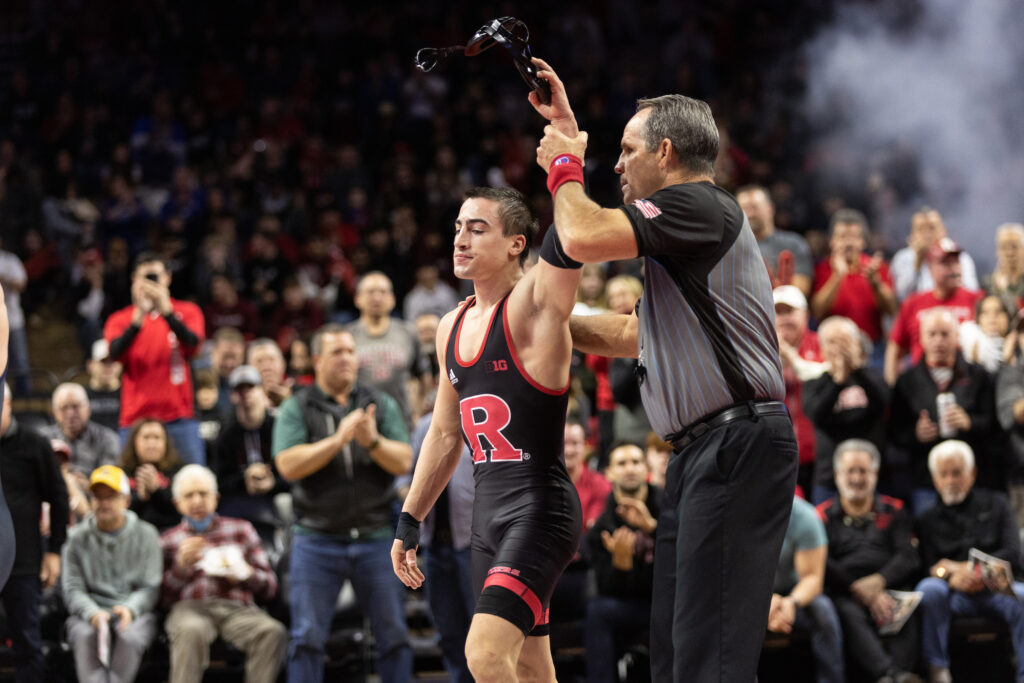 SAN LUIS OBISPO, Calif. – No. 15 Rutgers wrestling (2-0, 0-0) delivered convincing victories in its first two matches of the season, defeating RV Cal Poly, 31-10, and Duke, 47-0, on Friday night in San Luis Obispo, California. The Scarlet Knights won 17 out of 20 bouts during their two-match sweep, which included 13 victories by bonus.
No. 6 Dean Peterson (125), No. 10 Brian Soldano (184), No. 16 Dylan Shawver (133) and No. 17 Mitch Moore (141) recorded falls on Friday night. Moore, No. 6 Yaraslau Slavikouski (HWT) and No. 25 Jacob Butler (149) all delivered wins in their highly anticipated RU debuts after arriving over the summer as graduate transfers. Joe Fongaro (141) and Shane Cartagena-Walsh (174) also recorded wins in their varsity debuts.
No. 12 John Poznanski (197) and No. 24 Anthony White (165) collected two tech falls apiece.
"Really fired up about our guys wrestling hard and taking care of business against these two teams on the west coast," said head coach Scott Goodale. "We scored a lot of bonus points tonight which is encouraging. Now we're looking forward to getting home and filling up Jersey Mike's Arena against Virginia Tech in two weeks."
Rutgers opened the night against the Blue Devils and wasted no time thanks to back-to-back pins from Peterson and Shawver. Peterson worked a first-period fall, while Shawver's pin gave the Scarlet Knights a quick 12-0 lead.
Fongaro followed in his varsity dual debut with an 8-4 decision. Butler added a tech fall in his RU debut, and Al DeSantis (157) muscled a 16-5 major decision to help Rutgers to a 24-0 lead midway through the dual. The Scarlet Knights would pick up bonus in four of their final five bouts against the Blue Devils, which included a fall from Soldano, tech falls from Poznanski and White, and a major decision from Slavikouski.
Cartagena-Walsh made his collegiate debut in the win, as he recorded a 10-3 decision over Duke's Jack Zimmer.
RU followed the night against Cal Poly, who received votes in this week's initial NWCA Coaches Poll. Rutgers ripped off three consecutive wins to begin the dual, which included a second period fall from Moore to get the Scarlet Knights out to a 12-0 lead.
Back-to-back wins from the Mustangs at 149 and 157 pounds brought the team score to within five, but that would be the closest the dual would get. White scored at will in the third period against Michael Goldfeder to pick up an 18-3 tech fall and provide RU with a 17-7 advantage,
There were no issues for Soldano after he found himself on his back early in his bout with Kendall La Rosa, as the High Point, New Jersey, native reversed the Mustang for near fall in the opening period for a 6-3 lead. Soldano tacked on two more takedowns to cruise to a 14-4 major, putting Rutgers up 21-10 with two bouts to go.
Poznanski secured the dual victory over Cal Poly thanks to a dominant 17-1 tech fall over Jarad Priest. Slavikouski closed the night with a tech fall of his own, this one coming in the second period to cap the team score at 31-10.
Up Next
Rutgers opens its 2023-24 home schedule on Friday, November 17 against No. 4 Virginia Tech. The out-of-conference dual is set for 7 p.m. ET on Big Ten Plus.
Dual 1: Rutgers 47, Duke 0
125: 6/9 Dean Peterson (RU) over Logan Agin (DUKE) by fall (1:57); RU leads, 6-0
133: 16/19 Dylan Shawver (RU) over Raymond Adams (DUKE) by fall (5:37); RU leads, 12-0
141: Joe Fongaro (RU) over Peter Chacon (DUKE) by decision, 8-4; RU leads, 15-0
149: 25/NR Jacob Butler (RU) over Jarred Papcsy (DUKE) by tech fall, 18-1 (6:57); RU leads, 20-0
157: Al DeSantis (RU) over Logan Ferrero (DUKE) by MD, 16-5; RU leads, 24-0
165: 24/NR Anthony White (RU) over Gaetano Console (DUKE) by TF, 20-3 (7:00); RU leads, 29-0
174: Shane Cartagena-Walsh (RU) over Jack Wimmer (DUKE) by decision, 10-3; RU leads, 32-0
184: 10/8 Brian Soldano (RU) over Connor Becker (DUKE) by fall (2:57); RU leads, 38-0
197: 12/13 John Poznanski (RU) over Kwasi Bonsu (DUKE) by TF, 17-2 (7:00); RU leads, 43-0
HWT: 6/11 Yaraslau Slavikouski (RU) over Connor Barket (DUKE) by MD, 17-5; RU wins, 47-0
Dual 2: Rutgers 31, Cal Poly 10
125: 6/9 Dean Peterson (RU) over Dom Mendez (CP) by decision, 4-0; RU leads, 3-0
133: 16/19 Dylan Shawver (RU) over Zeth Romney (CP) by decision, 9-3; RU leads, 6-0
141: 17/16 Mitch Moore over Abe Hinrichsen (CP) by fall (3:13); RU leads, 12-0
149: 8/7 Chance Lamer (CP) over Michael Cetta (RU) by MD, 14-5; RU leads, 12-4
157: 26/NR Legend Lamer (CP) over Al DeSantis (RU) by decision, 4-2; RU leads, 12-7
165: 24/NR Anthony White (RU) over Michael Goldfeder (CP) by TF; 18-3 (7:00); RU leads, 17-7
174: 23/19 Adam Kemp (CP) over 28/NR Jackson Turley (RU) by decision, 8-5; RU leads, 17-10
184: 10/8 Brian Soldano (RU) over Kendall La Rosa (CP) by MD, 14-4; RU leads, 21-10
197: 12/13 John Poznanski (RU) over Jarad Priest (CP) by TF, 17-1 (6:30); RU leads, 26-10
HWT: 6/11 Yaraslau Slavikouski (RU) over Josh Harkey (CP) by TF, 16-0 (5:51); RU wins, 31-10