Subscribe to the SKWC's free newsletter.

---
President's Final Letter
On August 31st, I stepped down as President of the SKWC. It has been an honor and pleasure to work with the Rutgers Athletic Administration, the Rutgers wrestling coaches, the SKWC Board, all Rutgers wrestling fans, and most importantly, the student-athletes on the Rutgers wrestling team. The hard work of all involved resulted in significant growth and success.
Very few fans could have envisioned two National Champions, a top five team in attendance, a top ten finish at the National Tournament, three Rutgers wrestlers winning the Big Ten Medal of Honor, a new state of the art Athletic Performance Center, a team GPA over 3.0, and the SKWC securing over 20 internships and full-time jobs for our wrestlers. Committed leaders and passionate supporters, led by our coaches, were responsible for this success. I sincerely appreciate and thank everyone for allowing me to play a small role in the growth of the SKWC and Rutgers wrestling.
Looking forward, the outlook for Rutgers wrestling has never been better. This season and our lineup will be COVID dependent. That said, the lineup could feature three All Americans, including a National Champion and a third place national finisher, six returning national qualifiers, prized recruits, and an experienced group of sophomores and redshirt freshman. This could be our best team ever.
I will remain with the SKWC, as the Board guided by our Executive Committee consisting of Coach Goodale, Josh Gross, Kirk Holderbaum, Jason Newcomb, Matt Oliver, Tom Perrotti, Diane Shimanowitz, and myself. One request, if you have the time and desire to volunteer for the SKWC, mentor wrestlers, or financially contribute, please do. All support is valued and appreciated.
Knowing the coaches, the Rutgers Athletic Administration, and our wrestlers the goal remains a National Championship for Rutgers Wrestling. I sincerely believe this goal is realistic. There are no unrealistic goals – just unrealistic time frames.
Thanks again for all your support and I hope to see you at the RAC.
-Go RU!
David Bugen
Check out David's Interview with
"On The Banks Podcast episode no. 74 spotlighting Rutgers booster clubs"
(interview begins at the 30 minute and 30 second mark and ends at the 50 minute and 23 second mark). Special thanks to Lance Glinn!
---
Coach Pritzlaff's Update
​​​​​​​​​​​We are back at it on campus and in person as of September 1st and it has been incredible to be with our staff, the team and officially welcome our new students into the family. We have an incredible group of returning wrestlers and with the addition of the newcomers, the season will be exciting. Nothing has been ordinary as of late, but our young men have adjusted to the new standards and protective measures that must be taken. Our team and staff completed our 4th COVID-19 test this past Thursday using Rutgers University's own FDA approved saliva test. Several new protocols have been put in place and self-discipline will be the key for our team to continue training and eventually compete.
Our virtual student orientation was headlined by Rutgers' newly hired President Jonathan Holloway. President Holloway is a former Stanford football student athlete, so he understands the values that are learned on the mat and on the field. He spoke extensively about the daily adversity that student athletes encounter and the perseverance it takes to compete at the highest level in the Big Ten. A key point from Mr. Holloway was his insight on the New Jersey culture and the outside perception of Rutgers University. For many elite students and athletes, Rutgers is a secondary choice as a backup option. We encounter this in recruiting often and once we explain all the amazing opportunities Rutgers Wrestling has to offer, in many instances we move from safety net to dream school. Unfortunately, this is not always the case with all parents and prospects so we need to continue pushing Rutgers University excellence into the minds of all. Whatever you can vividly imagine that you want to become in life, a Rutgers degree will take you to that point. Whether you would like to be on Wall Street in NYC, fighting legal battles in the court room, working on response initiatives for the next pandemic, a career in law enforcement as well as unlimited options, there is no threshold on what can be accomplished at RU! When you enter the Rutgers Wrestling program the passion and effort you put into academics, athletics, and relationships will determine how successful you become on and off the mat. It is my assessment that President Holloway understands that from a marketing and brand perspective Rutgers is behind and we need to get out and spread the truth about how incredible it is to be a Scarlet Knight! Having all personnel and departments in the university pulling in the same direction leads to better recruitment and winning at all levels.
This is an unprecedented time where the fall semester has begun yet we do not have a competition schedule. Practice planning and periodization cycles are difficult to develop, so we all have become flexible. Our students are doing their absolute best to be diligent in taking care of their health while training and studying hard! We anticipate a modified shortened season and look forward to great success. Thanks for all the support from our fan base and we are excited to see you all soon!
Red Team Upstream!
Donny Pritzlaff
---
Coach Goodale Video Update
---
2019-2020 Postseason Award Winners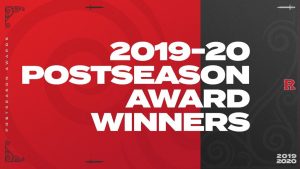 ---
Boom Club, Membership and Pin Pool Updates Coming Soon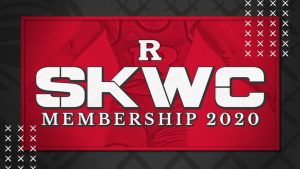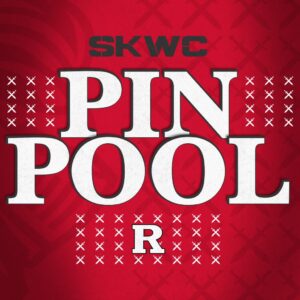 ---
This Newsletter is Sponsored by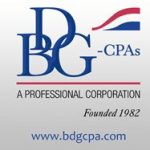 BDG-CPAs