The vision for turning Rutgers wrestling into a national force was scribbled on a napkin over a bottle of wine shared by husband and wife.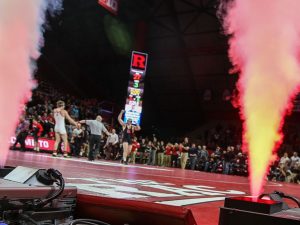 Scott Goodale, then the wrestling coach at powerhouse Jackson Memorial High School, wanted to be a good friend to the state program in 2007, when he fulfilled a request to put together a five-point plan.
Because he wanted to impress, Goodale had John Leonardis, a friend in the high school coaching ranks, and Leonardis' brother, an English teacher at Peddie School, review and edit the final typed product.
"Next thing you know," Goodale told Gannett New Jersey, "I was in on a six-hour interview."
The plan changed hands from Goodale to former NFL offensive lineman Bill Ard – father of a two-time high school state champion wrestler – to then-Rutgers deputy athletics director Kevin MacConnell to his boss Bob Mulcahy.
Two years after nearly eliminating the wrestling program as part of athletic budget cuts that eradicated six other sports, Rutgers reversed course and sought a spark for a potential sleeping giant.
Goodale emerged as the most intriguing candidate to replace 18-year veteran John Sacchi, but it meant Rutgers hiring a high school coach for the first time that anyone could remember.
"In a way, he reminded me a little bit of Greg Schiano," Mulcahy said referring to the Rutgers football program builder. "He was passionate, charismatic, detail-oriented. He really cared. Non-stop energy. Sometimes you have to take a real risk to make a substantial change."
Nine years later, Rutgers wrestling is:
A few weeks removed from achieving the highest national ranking (No. 6) in school history
138-50-1 in duals with 42 NCAA qualifiers under Goodale
A threat to produce multiple All-Americans in the same year for the first time
On pace for a second straight top-six national finish in attendance with crowds approaching 3,000 per match
The beneficiary of about $1.7 million in new gifts and pledges for scholarships, program support and capital projects
"I hate hearing that we're 'going in the right direction,'" Goodale said. "We're here already. We're good enough to compete with everybody. The hard part is now we have to sustain it."
---
The foundation
Learning on the job
Goodale was hired at a starting salary of $65,000. His only demand was to bring Leonardis as an assistant coach.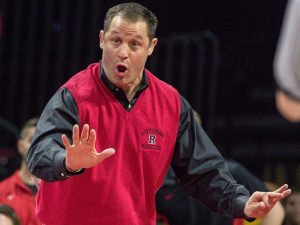 "Bob asked me what it was going to take and I said, 'I'm a teacher and I coach three sports. I'll take what I make at Jackson," Goodale said. "I offered my benefits to John, and Bob was like, 'You should probably talk to your wife about that.' I wanted to get this thing up and running."
Suddenly, the plan for recruiting, fundraising, academics, staff-building and accessibility needed implementation – not imagination.
NEW: Read the unbelievable story of how Anthony Perrotti became an All-American
Goodale inherited a program with 3.4 scholarships – far below the NCAA maximum of 9.9 – and the lowest NCAA Academic Progress Rate multi-year score (904) of any at Rutgers.
"There were times we were borrowing from our budget to give a women's sport a scholarship," Goodale said, "as long as we got our scholarship."
Today, Rutgers is fully funded and its APR score is 966, after topping out at 974 on the 1,000-point scale. Rutgers ranks 10th out of 14 wrestling teams in the Big Ten in APR, which measures graduation and retention rates.
Perhaps an even bigger change is the growth of the Scarlet Knights Wrestling Club, which provides fundraising assistance.
While it struggled to get off the ground at first, the SKWC is now a fundraising power, with $400,000 in pledges in 2014 to get assistants on the university payroll, according to president David Bugen. It also helps attract resident coaches – post-college Olympic wrestling hopefuls who train with the team.
"The first question I asked was, 'What do you need?' and their response was more academic support for the kids," Bugen said. "What I saw was two guys who were teachers and they wanted to develop guys not for four or five years at Rutgers, but for the next 50 years in their life."
Mulcahy promised to supply Goodale and his entire coaching staff, which included standouts such as UFC star Frankie Edgar at one point, a full education in NCAA compliance.
"John and I would compete with our compliance test scores," Goodale said. "We even had Frankie Edgar take it one year. He was like, "What am I taking this for?' He wanted to fight people over there.
SLIDESHOW:  Rutgers Wrestling Through the Years

---
First class
Recruiting success came first
Goodale's first recruiting class was ranked No. 4 in the nation and included four state champions among 12 New Jerseyans. It was the product of long nights spent visiting 250 schools, clubs, clinics and camps.
"I remember there was an outcry from the wrestling community in the state," said John Wooding, who chaired the Rutgers hiring committee, "that wrestling can be a prominent sport here by getting one of our own in place."
The prize of the class was Jackson Memorial's Scott Winston, the No. 2-ranked national recruit who elected to follow his coach to Rutgers.
"Our biggest thing right away was we are going to create such a buzz that whether they like it or not they are going to start believing in it," Goodale said. "So you've got this class. Now there is expectation. All of a sudden it's real. That was the first monumental thing that happened."
Change was more difficult to create on the mats, but Donny Pritzlaff, who recruited Winston at Wisconsin, sensed it coming from afar.
"Scott has a wealth of knowledge about wrestling, but he does a lot of things that other coaches can't do," Pritzlaff said. "He speaks about his program better than anybody I've ever been around. Boosters love him. Recruits love him. It's outside-the-box, but I think wrestling would do better if they did more hires like this."
MORE: Rutgers wrestling sees upset slip away vs. Michigan
Goodale's tenure began with three straight non-competitive duals at Ohio State, Lehigh and Maryland.
Leonardis recalls his boss asking to swap out charter buses for yellow school buses and hotel stays for morning-of-match commutes.
"He wanted to get the guys tougher," Leonardis said, "and the administration said, 'We can't do that. There is certain protocol.' Whereas most coaches would turn around and say we aren't being supported because we don't have a state-of-the-art facility or we don't have this, he was like, 'I want less.'"
---
Breakthrough & backlash
2010-11 season offered highs and lows
On the morning of Jan. 21, 2011, hours before No. 8 Rutgers cemented its national arrival by upsetting No. 3 Virginia Tech, Goodale shuttled wrestling apparel from his College Avenue Gym office to the Rutgers Athletic Center so it could be sold by a wrestler on the concourse.
The scene didn't exactly scream big time.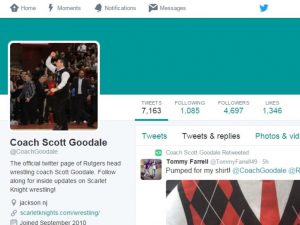 "I'm bringing over boxes and the clothes are falling out of my truck in the snow on Route 18," Goodale said. "I'm a mess. We're selling sweatshirts that are dirty and I'm like, 'Put that over to the side.' It's all my anxiety leading up to this match knowing we can win."
Goodale's profile photo on Twitter is his reaction – one arm raised, one foot about to stomp the mat – to 125-pounder Joe Langel's win to kick off that match.
"It's like, 'Wow, this is what it's going to be like,'" Goodale said. "And it probably would've been, but we didn't get it done at the national tournament. It goes from such a high to a real frustrating point."
Two of Rutgers' eight 2011 NCAA qualifiers were bounced one win shy of becoming an All-American. The Round of 12 was becoming an impenetrable force field for Rutgers, which had jumped from 11th to ninth to sixth to third in the EIWA Championships.
"Where there is smoke, there is fire," Goodale said. "You start looking at yourself. Are we doing everything right? Are we recruiting the right kids? We've won so many duals, we've beat so many good teams, and you keep hearing, 'It's all about March.' That was the biggest frustration."
Or was it merely part of the development?
"The biggest thing that I've seen grow is that everyone from the head coach to the third-string guy believes that we deserve to be here," redshirt senior captain Anthony Perrotti said. "When you believe, you are going to train that much harder because you know your goals are at your fingertips."

VIDEO
---
Anthony & Anthony
Grooming two All-Americans
There is only one undefeated four-time high school state champion in the sacred lore of New Jersey wrestling.
As such, South Plainfield's Anthony Ashnault could have committed to just about any program in the nation, but he picked the one where his name means the most.
"There were times where he was going to (visit) Michigan or Penn State and I'd be on an airplane not able to do anything," Goodale said. "He was coming here when we didn't have All-Americans. That was huge. Now they are all taking us seriously."
Ashnault's arrival practically assured that Rutgers eventually would take the next step – onto the All-American podium.
MORE: Rutgers wrestling upsets Nebraska for first Big Ten home win
"I never pictured myself coming to Rutgers," Ashnault said. "But as the years went on Rutgers became a home for me. I saw something special that could be done."
Perrotti made the image a reality.
"I saw something special that could be done."
Anthony Ashnault
At the end of a wholly unremarkable redshirt sophomore season, Perrotti was the final Rutgers wrestler left in the 2014 NCAA Championships. He was on the verge of elimination in the minimum two matches.
"I'm so frustrated by everybody else that I call for a challenge that I knew we weren't going to win," Goodale said. "All I wanted to do was talk to Perrotti. It was the kind of way you don't talk to an athlete in the middle of a match. He says to me, 'Relax, I got it.'"
Perrotti's tournament-extending comeback didn't satisfy his coach.
"I hand him his stuff, I walk across Mat 1, across Mat 2, out the lobby, up the stairs to my hotel room by myself, like a baby," Goodale said. "Under my sheets, I call my wife and say, 'It was a terrible day. Here we go again. We're going to have to go through another whole year.'"
---
Day to remember
Perrotti changes Rutgers perception
Just as Lisa Goodale had helped formulate the plan on the napkin, she convinced her husband to get out of bed and give Perrotti a pep talk.
Perrotti's second day at nationals stands as one of the golden standards for the program. He recorded three upsets of Top 16 wrestlers – including a 10-second pin of an old program nemesis (Oregon State's Roger Pena) that is the fastest in NCAA Championships history.
"It changes everything," Goodale said. "I thought we were good coaches, I thought we were doing everything right. This kid has one great tournament and he is an All-American. Now his face is on the Turnpike. He is on buses. I'm sitting in Seaside Park and he is on a helicopter: Buy season tickets."
A year later, Ashnault delivered on his promise as the program's first freshman to be an All-American. Rutgers also boasted All-Americans in back-to-back years for the first time.
MORE: All-American Anthony Ashnault sets sight on NCAA championship
"You can't say, 'They've never had an All-American. He's a high school coach,'" Goodale said. "That was happening. I don't like dirty recruiting. They were using that against me. He can't get it done. I would have recruits ask me, 'Why don't you have All-Americans?'"
Rutgers suddenly was entering the Big Ten with an All-American, four years of Ashnault and Pritzlaff joining the staff as associate head coach.
"I was on College Avenue at the traffic light," Goodale said of the moment he first heard of the Big Ten realignment. "Are you kidding me? We're going to be in the Big Ten?"
Open doors to the best recruits in the nation and stiffer conference competition started racing through Goodale's mind. Finally, he settled on one opinion.
"Screw that," he said. "We're not going to play second fiddle. We're going to work harder."
---
Cutting edge
Keep it growing
You might expect to see a copy of the five-point plan hanging in the wrestling office, but one of the only copies remains on Leonardis' computer.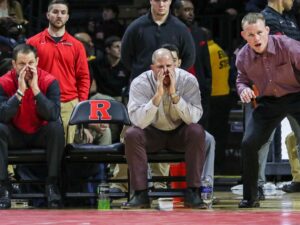 "It's funny because without looking at that daily and looking back on it after five or six or seven years, it was what we were driving toward even without consciously thinking about it," Leonardis said. "It's never as fast as you want it to be."
Nowhere does it mention a new practice facility or holding outdoor matches on the football field, but an out-sized dream in 2007 is keeping up with the Joneses in 2016.
"I never cared about a facility, but now we need it," Goodale said. "The reality is we would've been stagnant without it."
Iowa drew 42,287 fans for an outdoor match as part of a day-night doubleheader with a football game in November. Could Rutgers pull that off?
"I'd love to do it," Goodale said. "It's us staying on course with the cutting edge."
Pritzlaff, a two-time national champion wrestler at Wisconsin, coached at his alma mater and at Michigan before returning home to New Jersey.
"I've seen where when you get things firing and you have the administration behind you and you have boosters support and the media – basically the whole state is involved – you can really excel," Pritzlaff said. "That's the way I felt when I got here."
Wrestling received $570,000 in new gifts and pledges in Fiscal Year 2015, according to a school official.
"It's a lot easier because we can prove success on and off the mat," Bugen said, "but Rutgers is just scratching the surface."
Rutgers has beaten five Top 25 opponents this season and could add another victim Feb. 20 when it hosts the prestigious National Championships Dual Series. The 2016 NCAA Championships will be held March 17-19 at Madison Square Garden, a chance for Rutgers to further seize its home market.
"It's taking little steps," Perrotti said, "but people don't realize we're taking big steps in the long run."
---
Author:   Ryan Dunleavy: [email protected]
Source:  Asbury Park Press