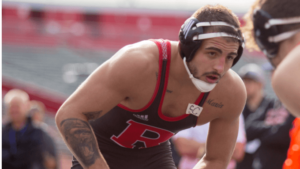 Richie Lewis aka R.L. Savage completely embodied his alter ego as he clawed his way to the gold medal at the U23 Freestyle World Championships in Bydgoszcz, Poland, on Sunday.
The Jersey boy started his run with a pair of dominant technical falls over Canada's Caleb Rutner and Surkoh Rashytkahanau of Belarus to advance to the quarters, where he added decisions of 14-7 and 7-2, respectively, to punch his ticket to the 70kg finals. Once the match got started, it was clear that Lewis was going to be the aggressor, but it wasn't until the second period that he scored his first points with a low single to get the takedown.
The key moment in the title bout came when Lewis was in a bit of trouble, but he came back with a great counter to earn the step-out and make the score 3-1, where it would stay to give him the win.
Richie Lewis' world title run makes him our FloWrestler of the Week.
Lewis' Final Results
WIN Caleb Rutner (Canada), 10-0
WIN Surkoh Rashytkahanau (Belarus), 11-1
WIN Muhammet Akdeniz (Turkey), 14-7
WIN Zulfikar Makhamatov (Kazakhstan), 7-2
WIN Kumar Vinod (India), 3-1
FloWrestler of the Week Nominees:
Joey Mckenna: Claimed bronze at the U23 World Championships.
Ty Walz: Earned bronze at the U23 World Championships.
Willie Miklus, Missouri: Trailing 7-2 late in the match, went big to pick up a fall over No. 2 Jared Haught.
Dean Heil, OK. State: Picked up his 100th career win (50th win in a row) against SDSU.