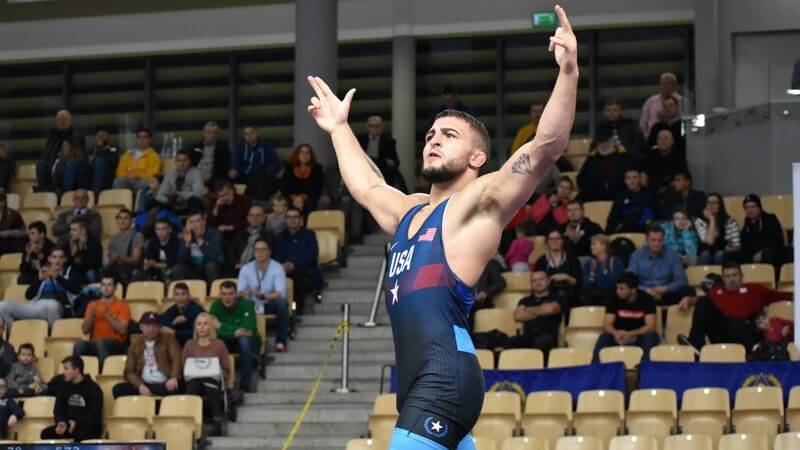 ---
BYDGOSZCZ, POLAND — Richie Lewis used to be a wrestling room star.
He'd show well in practice, but he couldn't quite unlock his complete capabilities for the entire wrestling world to see when the competition lights turned on. His results were fine — three New Jersey state high school medals, second- and third-place finishes in junior college and a 27-7 record in his first season at Rutgers — but he never fully opened stardom's door.
Then Lewis injured his shoulder and had to miss nearly all of last season.
And it might have been the best thing to happen to his wrestling career at the time.
On and off the mat, Lewis had always been in a rush. A season-ending shoulder surgery gave him to slow down and reflect. He picked up a book his mother gave him years ago — The Success Principles: How to Get from Where You Are to Where You Want to Be — and began flipping through the pages written by Jack Canfield.
"I had never read it," Lewis said. "I watched a Conor McGregor interview and he was reading the book in his hands. "I said, 'Wow, my mom bought me that book when I was about 12 years old and I never picked it up."
While recovering from surgery, Richie Lewis began the journey from where he was as a wrestler to where he wanted to be.
In October, he stepped on the mat for the first time in nearly a year and something strange happened at the U23 World Team Trials. He felt completely at ease.
"Normally, I get a little nervous," he said. "Then I got surgery and I wrestled at the Trials and didn't get nervous at all. I have a smile on my face right before I go out there because I'm grateful for the opportunity. I've been in some dark places and I suppress all those feelings and I just go out there and all the noise in my life cancels out and I feel great. Those six minutes are the best six minutes of my life every time."
The U23 Trials were supposed to be a weekend trip to Minnesota to knock off the competitive rust that built up during the 11-month layoff. At least that's what Rutgers coach Scott Goodale said in the week leading up to the tournament.
Then Lewis shredded the 70-kilogram bracket that weekend, disposing of a pack of past and present college standouts by a collective 44-6 count, earning him a trip to Poland and a chance to showcase his skills at the U23 World Championships.
Turns out there was gold underneath that thin layer of competitive rust.
The wrestling world witnessed Richie Lewis in peak form Sunday. He outscored his five opponents by a combined 45-11 margin on his way to winning the U23 World title at 70 kilograms.
"He did not get flustered in any situation," USA Wrestling U23 coach Teague Moore said. "The surroundings, first time overseas can be a little daunting. You can get thrown off. There's so many distractions, whether it's the hundred different languages you're hearing and seeing, officials that you don't think a call should've gone that way. He stayed laser-focused on what he's really good at. He quickly learned. I really feel it was in his second match that he realized he's as good as any guy in this building. Then you could see his confidence build match by match."
Lewis' 3-1 victory against India's Kumar Vinod in the gold medal match represented the brightest moment during a week that, for the United States, was mostly as dreary as the gray, Polish skies. The Americans had stunningly been shut out of the medal count during the tournament's first five days as Team USA went 7-24 in matches.
The clouds lifted on Sunday.
Joey McKenna reeled off three straight wins after suffering a second-round defeat to bag a bronze at 65 kilograms. Ty Walz battled back after a one-point loss in the quarterfinals to claim a bronze at 97 kilograms. Isaiah Martinez placed fifth at 74 kilograms.
McKenna launched his run through the repechage with a hearty comeback. He trailed 6-1 at the break against Moldova's Maxim Sacultan before charging back with two late chest-wrap exposures in a 9-6 victory.
His bronze medal match required some grit, too. Leading 1-0 in the final minute, McKenna got put on the clock against Heorhi Kaliyeu of Belarus. Forced to score, he went into sprint mode and drove Kaliyeu out for the final point in a 2-0 victory.
"At that time, it was a medal or don't medal kind of chance," he said. "I got a hold of his leg and just started driving."
Walz waited out China's Chaoqiang Yang 3-0 in the bout for bronze at 97 kilograms, methodically picking his spots to attack. It was a departure from the higher-octane offense he displayed throughout his career at Virginia Tech and earlier in the day when he posted 24 points in three matches, but it reinforced one of the pillars behind his training.
"What I'm doing is working," Walz said. "I focus on persistence, patience, discipline and gratitude every day, and that's something we preach in our wrestling room — all those tiny, little things. Since I'm a millennial, I have it on my phone in my notes and I look at it every day and I practice it and knowing that focusing on those things is making me a better wrestler and a better person, it feels great. Accomplishing something you're working towards is amazing. I love it."