As of 23 March 2022:
---
The 2021-2022 PinPool season is over.
If you have not yet joined the PinPool you can join now using the "Pay Your 2021-2022 PinPool Pledge" button. Chose your level of participation and make your contribution using the form attached to the link. Thank you for your support of Rutgers Wrestling and the SKWC!
Pledges must be paid by April 10 to guarantee
receiving the t-shirt size of your choice.
Pay Your 2021-2022 PinPool
Pledge
---
The start of a new Rutgers wrestling season is only a few days away. All Scarlet Knight fans are anxious to pack the RAC, now Jersey Mike's Arena, once again to support our Big Ten wrestlers on the mat as they face the best competition in the country!The SKWC is an independent non-profit (5.01 c 3) that receives no funding from Rutgers. The SKWC supports Rutgers Wrestling in many ways. One of the main means of support is to bring world class resident athletes to The SKWC RTC to train alongside our Rutgers Wrestlers. The mentoring in and out of the room from these elite athletes helps our Rutgers wrestlers raise their expectations and attain their goals.
This year the SKWC has eliminated the BOOM CLUB and the dues-based membership program. All PinPool and PinPool+ participants will be considered SKWC Members and receive the members only KnightFalls newsletter. We are asking our generous donors who in the past supported the Club by participating in all three fundraising programs concentrate that support into the PinPool or PinPool+.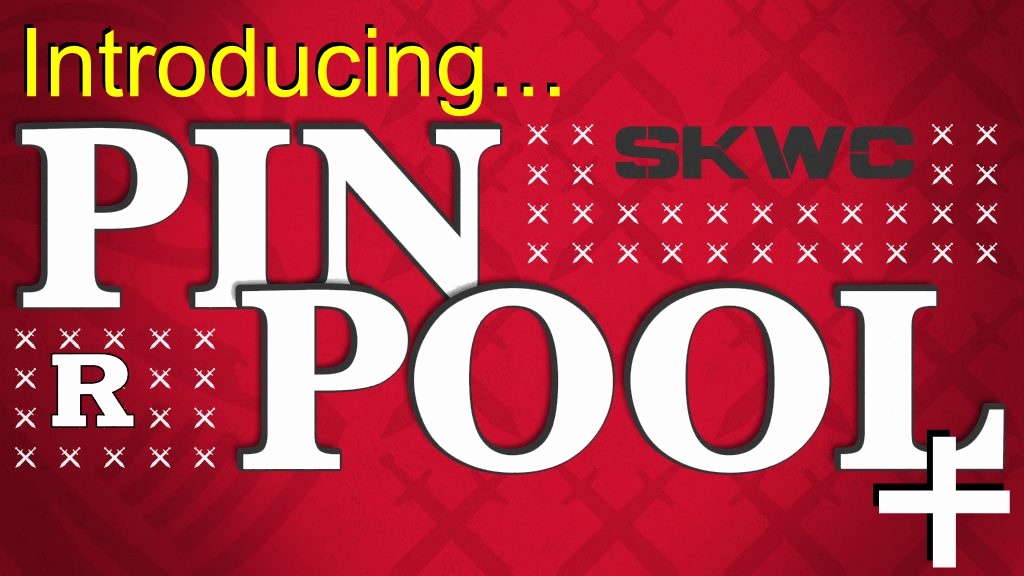 PinPool+ has been added after listening to our members. The PinPool+ allows a participant to prepay for 50 pins at 4 different dollar levels. The donated amount is fixed regardless of the number of pins scored. There are exclusive benefits available to those who choose to participate in the overall PinPool in this way.
2021-22 PinPool+
register here:
Registration Closed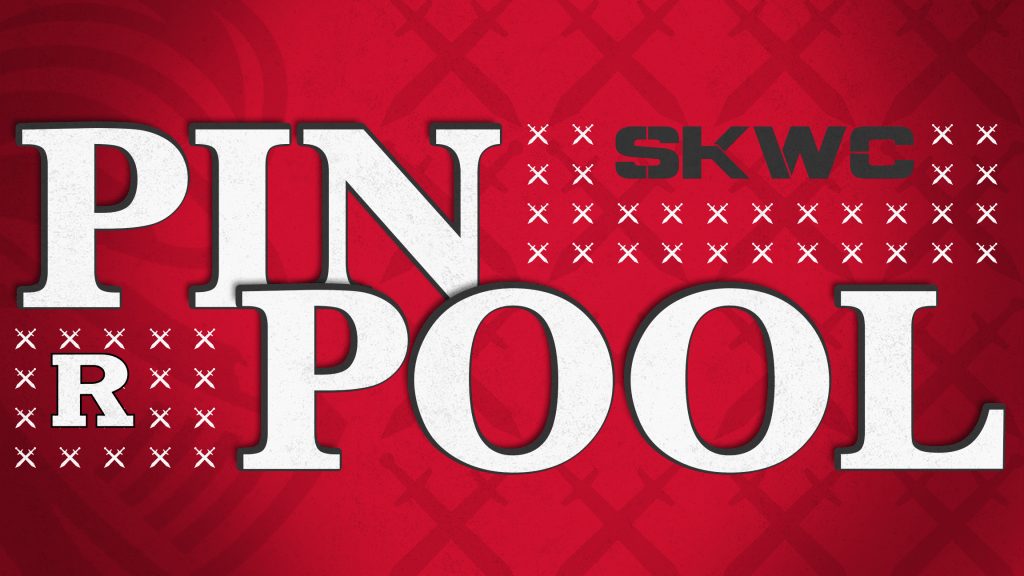 The traditional Pin Pool rules are simple. Participants pledge a fixed amount per pin. Any time that a Rutgers wrestler on the roster scores a pin in competition it counts towards the Pin Pool. Only pins recorded at an NCAA sanctioned event will add to the pin total for the season. The season concludes with the NCAA tournament.
At the end of the season, all participants in the PinPool will receive an invoice of the amount owed for their pledge.
2021-22 traditional Pin Pool
register here:
Registration Closed
All paid pledges of $5 and above in the traditional PinPool, and PinPool+ members
will receive the iconic SKWC PinPool tee shirt at the conclusion of the NCAA season.
General Information:
When registering please indicate your consent to be listed as a PinPool participant
Should you have any questions please contact us at

[email protected]

.
Our goal is to build a top RTC that will enable our wrestlers to train for Olympic, world, and national competitions.
The Pin Pool rules are simple. Participants pledge a fixed amount per pin. Any time a Rutgers wrestler scores a pin it counts as a Pin Pool pin. Our wrestlers compete in both duals and open competitions over the course of the season. Falls by Rutgers wrestlers scored while while in their redshirt year count toward this total. Periodic updates will be sent to Pin Pool members over the course of the season. This is the 11th edition of the Pin Pool.
Pin Pool donations are tax deductible in accordance with IRS rules.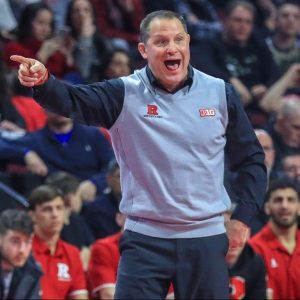 At the conclusion of the NCAA championships in March you will be sent a notice of the amount due calculated by multiplying the number of qualifying pins by your pledged amount per pin. A link that will enable you to pay online using a credit card will be included with the notice of amount due.
If neither the PinPool+ nor the traditional PinPool programs meet your needs to support the SKWC we offer you the option of donating an amount which fits all budgets. We value all our supporters and would never exclude anyone from being part of our family.
2021-22 General Donation click here: https://app.donorview.com/p6OOg
We are gearing up for another historical season on the Banks!
Red Team Up Stream!
Thank you for your support!
Sincerely,
Scarlet Knights Wrestling Club
Send Pin Pool questions to [email protected]
---
Pin Pool Wall of Fame
2021-2022 is the 10th year of the Pin Pool!
AS OF: March 23, 2022
Please renew for 2021-2022 and then your years — # appearing superscripted next to your name will be updated.
The SKWC greatly appreciates your loyalty to the Pin Pool!
Superscripted numbers next to names represent the years participating in the Pin Pool. We appreciate your loyalty!
Welcome Back to the Pin Pool!
Brad Adams 9
Martin Allen 3
Mike Antenucci 4
Bill Ashnault 4
Tim Burklow Sr. 9
Bob Cancrco 3
Tom Caravela 7
Thomas Carr 2
Alex Caruso 7
Art Certisimo 8
Kevin Cramsie 2
John Croot 8
Jim & Renee Curran 5
Barry Dambach 3
Joe DeRosa 3
Doug Dolan 8
Robert Dunbar 5
Brent Ekstedt 5
Chris & Sue Evans 5
Joe Fasulo 4
Michael Fierro 4
Buddy Frezza 5
Robert Friedman 6
Donna Gapas LCSW ?
William Garbarini 10
Drew Gitomer 5
Jerald Goldstein 4
Karen Goodale 10
Ken Grispin 4
Aaron Gross 5
Joshua Gross 10
Russ Gutter 3
Kenneth Halligan 3
Theo Hardies 4
Steven Hay 4
Steven Hayes 2
Tim Hennessey 4
William Hoffman 10
Kirk Holderbaum 8
Garry Holliday 3
Kevin Kenny 7
Richard Knoblock 4
Eric Kocay 2
Tom LaBue 8
Gregory Lagakos 3
Andrea Leonardis 8
Ray Lijo 10
Ron Lockman 5
Tim Madden 5
John Malyar 2
David Marr 4
Mike Messner 7
Brian Miller 3
Mintz & Geftic LLC ?
Adam Mitchell 10
William Moses 4
Leon Mowadia 10
Michael Mundy 2
Jason Newcomb 7
Jonathan Newman 3
Enzo Nini 5
Judith O'Neill 3
David Otterburn 6
James Pagano 7
Brian Paich 7
Tim Paich 6
William Paladini 4
Jim Patti 3
Chris Peake 9
Tom Perrotti 2
Adam Petsko 3
Edward Pritzlaff 2
Dante Puorro 6
Ron Puorro 7
Robert Rahner 3
Lawrence Rizzo 2
Gary Rudow 4
Matthew Sagui 7
James Salvesen 3
Philip Scalo 3
Margaret Sherman 4
Mick & Barb Simmons 5
Ron & Diane Shimanowitz 7
Steven Simminger 2
Beverly Stott 7
Kenneth Theobold 5
Robert Torrone 5
George Tsacnaris 2
Jeffrey Vanderbeek 2
John Weinlein 4
John Welch 9
Adam White 4
Stan Winkler 4
Erik Wnuck 8
Timothy Woods 9
Joe Young 8
---
Welcome to the Pin Pool!
Baris Alkoc
Salvatore Anuario
Ronald Blandon
Dan Bradley
Kevin Burkert
Dayna Burnworth
Joseph Cammarota
Christine Campbell
John Caputo
Edward Carney
Jenny Carney

Roy DeBoer
Andrew Diamond
William Dibble
Frank Dipiano
Michael Durso
Tarek Elkachouty
Robert Ellsworth
Desantis Family
Michael Furlong
Robert Haley
Theo Hardies
Kevin Hargadon
William Harle
Justus Howley
David Hutt
Billy LaGrutta
Aaron Mansbach
Gary Mezzacapo
Alan Michels
Leo Miller
Joseph Moroney
Kyle Morris
Drew Murray
Jack Oujo
Anthony Perrotti
David Purdy
Keith Reinhard
Danny Rodriguez
Mike Saitta
Jeffrey Siciliano
Anthony Sisti
Richard Stanzione
Rick Stoeckel
Ronald Stott
Michael VanBrill
David Watson
Michael Whalen
.
YOUR NAME HERE!
2021-2022 Pin Pool Registration :
Registration Closed.

Pins to date:
49

this season's goal IS

50

!
Pin Board
WEIGHT &
WRESTLER (Pins to Date)
133 – David Campbell (1)
141 – Michael Cetta (1)
184 – John Poznanski (1)
HWT – Alex Esposito (1)
HWT – Boone McDermott (1)
197 – Greg Bulsak (1)
HWT – Niccolo Colucci (1)
HWT – Niccolo Colucci (2)
133 – Devon Britton (1)
133 – Devon Britton (2)
197 – Greg Bulsak (2)
197 – Kyle Epperly (1)
HWT – Boone McDermott (2)
133 – Devon Britton (3)
197 – Kyle Epperly (2)
149 – Tony White (1)
HWT – Marcus Estevez (1)
HWT – John O'Donnell (1)
165 – Jake Benner (1)
165 – Andrew Clark (1)
157 – Dylan Weaver (1)
157 – Dylan Weaver (2)
157 – Marcus Estevez (1)
157 – Marcus Estevez (2)
157 – Marcus Estevez (3)
133 – Sammy Alvarez (1)
141 – Sebastian Rivera (1)
174 – Connor O'Neill (1)
184 – John Poznanski (1)
149 – Mike VanBrill (1)
141 – Michael Cetta (2)
141 – Michael Cetta (3)
141 – Sebastian Rivera (2)
165 – Andrew Clark (2)
174 – Jackson Turley (1)
157 – Dylan Weaver (3)
125 – Nico Messina (1)
125 – Nico Messina (2)
125 – Nico Messina (3)
133 – Devon Britton (4)
285 – John O'Donnell (2)
HWT – Boone McDermott (3)
141 – Andrew Gapas (1)
197 – Greg Bulsak (3)
133 – Joseph Olivieri (1)
197 – Greg Bulsak (4)
141 – Sebastian Rivera (3)
149 – Mike VanBrill (2)
174 – Connor O'Neill (2)
FALL
TIME
(3:32)
(2:47)
(2:41)
(0:09)
(0:55)
(1:23)
(4:33)
(1:44)
(1:27)
(3:42)
(6:00)
(1:27)
(:)
(1:31)
(4:16)
(1:13)
(0:59)
(:)
(1:06)
(0:16)
(0:39)
(5:15)
(4:18)
(4:02)
(2:14)
(0:52)
(2:37)
(0:58)
(3:10)
(4:35)
(1:12)
(4:00)
(1:35)
(4:50)
(4:56)
(0:58)
(6:28)
(3:20)
(0:56)
(2:40)
(4:19)
(2:36)
(3:53)
(2:11)
(2:38)
(2:43)
(5:32)
(4:26)
(2:15)
---
Pin Pool History:
(record)
SEASON
2021-2022
2020-2021
2019-2020
2018-2019
2017-2018
2016-2017
2015-2016
2014-2015
2013-2014
2012-2013
PINS
49
4
54
47
37
49
47
55
35
35
PLEDGED/PIN
$2993 NEW RECORD
$2165
$2434
$2704
$1862
$1329
$1164
$714
$411
$265
PARTICIPANTS
154
89
194
217
126
Remaining Matches:
Mar 17, 18 & 19
NCAA Championships