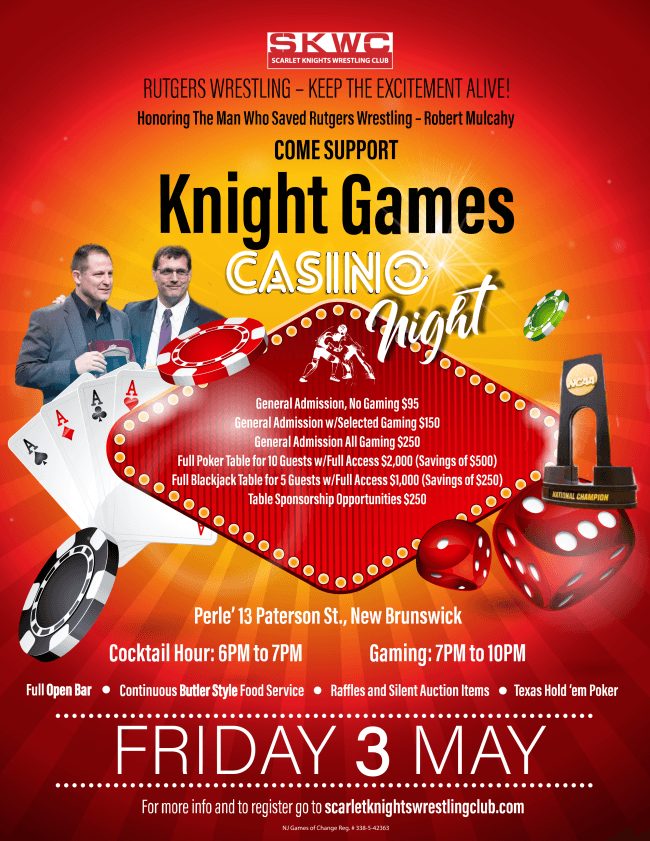 Please join the Rutgers Wrestling Family on May 3rd for a night celebrating the success of the wrestling team and Jersey Pride. We are hosting our inaugural KNIGHT GAMES that will be a night of networking, celebrating, food, drinks, and playing games of chance.
We will honor the success of Rutgers wrestling and Bob Mulcahy. Bob is the man who preserved the Rutgers wrestling program. In 2006, Rutgers Wrestling was scheduled to be eliminated. AD Bob Mulcahy refused to cut the program and hired Scott Goodale.
Bob's decision to hire Scott resulted in:
More All Americans than all other Rutgers Coaches Combined
Two National Champions and a National Runner-up
A #4 ranked in Home Attendance
Over 3,000 Season Tickets Sold
A Top Ten National Finish
The NCAA Tournament Coach of the Year, and
Pride in New Jersey Wrestling
The proceeds from Knight Games and our celebration will support the NJRTC and the SKWC. Please join us on May 3rd at 6pm.
Over 100 event photos by Roy DeBoer:
---
Unable to Attend? Please consider making a donation to the SKWC by clicking the link below.
Or, tax-deductible checks can be mailed to
SKWC, Inc.
130 College Ave.
College Ave Gymnasium
New Brunswick, NJ 08903