February 15, 2013
By JOHN IRVING
>IN A.D. 393, the ancient Olympic Games were abolished — they had become too corrupt. Wrestling was among the first sports in those ancient Games; wrestling was also included at the start of the modern Olympics, in 1896.
Yet on Tuesday in Lausanne, Switzerland, the executive board of the International Olympic Committee voted by secret ballot to eliminate wrestling, starting in 2020. At the same meeting, it voted to keep the modern pentathlon.
You might have missed the modern pentathlon last summer in London, where only 26 countries participated in the combined shooting, horseback-riding, running, swimming and fencing event. In the same Olympics, there were wrestling medalists from 29 countries. In other words: more countries won medals in wrestling than competed in the modern pentathlon. Globally, the TV audience for wrestling averages 23 million viewers. The modern pentathlon averages 12.5 million.
An I.O.C. spokesman said of Tuesday's vote, "It's not a case of what's wrong with wrestling." It's a matter of what's right with the other sports, he claimed. But what to think about the board member Juan Antonio Samaranch Jr. of Spain? The son of a former I.O.C. president, he is also a vice president of the International Modern Pentathlon Union. In the international wrestling community, talk of his conflict of interests is understandably widespread.
The I.O.C. decision isn't the end. Wrestlers can appeal. There's an executive board meeting in May in St. Petersburg, Russia, and a final vote in September. But why didn'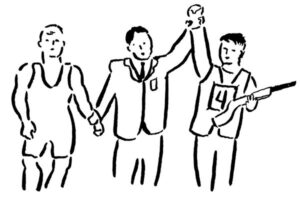 t the sport of wrestling have sufficient representation before the secret vote in Lausanne?
Many in the wrestling community blame FILA, the sport's international federation. Bill Scherr, a former American wrestler who won a bronze medal at the 1988 Olympics, remembers talking to some I.O.C. members during his efforts to support Chicago as the host for the 2016 Olympics; based on those conversations, he told FILA that wrestling might be in trouble. Of his warnings, Mr. Scherr said, "In no way were they heeded."
He has also said, and I agree with him, that FILA probably presumed that wrestling's status as an ancient Olympic sport would protect it. FILA said it was "greatly astonished" by the I.O.C. vote.
Michael Novogratz, a New Yorker and former Princeton wrestler — and chairman of the inner-city wrestling program Beat the Streets — has said that FILA "just did not do a great job of selling the merits of the sport."
No one I regularly talk to in the wrestling community would disagree with that assessment. What I hear, repeatedly, is that FILA has antiquated leadership. Clearly, wrestling needs advocates; FILA isn't doing the job.
Since the vote in Lausanne, I've been asked many times: "How can anyone know what 15 members who vote by secret ballot really think?"
Just two of the board's members come from countries where wrestling is an actively promoted sport. Yet 180 countries wrestle, and only 53 engage in the modern pentathlon. Wrestlers from 71 countries went to London last summer; before they could compete, they had to win some of the toughest qualifying tournaments in the world.
And while the United States has won the most Olympic medals in wrestling, Russia currently dominates the sport, and there have been many medal winners from Cuba, Finland, Iran, Turkey and South Korea — and, more recently, since the fall of the Soviet Union, from Azerbaijan, Georgia and Uzbekistan.
If the executive board's vote is upheld, will the elimination of wrestling as an Olympic sport hurt wrestling at high school and collegiate programs in the United States? Certainly. High school participation has expanded by 40,000 wrestlers in the last decade; more than 270,000 high school students wrestle, including more than 8,200 women. There are 21 intercollegiate women's wrestling teams and, since 1999, 95 new college wrestling programs.
But if American wrestling is strong, in recent years international wrestling has done significant damage to itself. Just look at the stupid rules for overtime: the defeatist ball draw (in which, roughly, a wrestler draws a colored ball to determine his or her position) and the unfair "clinch" (as it's called); these are such bad rules that people who don't know wrestling can't understand them, even when I explain them.
Knowledgeable American fans dislike the sport's international rules. I was in Iowa City in 2012 for the United States Olympic trials; when a match came down to overtime, there was a groan from the 14,000 faithful in Carver-Hawkeye arena. These fans are among the most savvy and appreciative in American wrestling; yet what I heard was their skepticism, truly their disgust, each time there was a ball draw or the clinch.
These rules are certifiable crowd-killers, while the TV coverage of other combat sports — boxing, taekwondo and judo — is increasingly as popular as (or more popular than) wrestling. Olympic boxing is far from being the world's best boxing; Olympic wrestlers are the world's best. I like taekwondo; I like judo. But wrestling shouldn't be losing the TV audience to them.
In the ancient Games — as early as 708 B.C. — they were wrestling. Granted, some of those early wrestling matches were settled by brutal means; many matches ended in death. Think what matches ending in death might do for wrestling's TV ratings. Death would beat the ball draw, or the clinch; almost everyone can understand death.
I'm kidding, of course. Seriously, FILA is doing an inadequate job of representing and protecting the sport I love, and thanks in part to its inadequacy, the executive board of the I.O.C. has been able to make a decision as underhanded and wrong as the corruption that brought an end to the ancient Olympic Games in A.D. 393. We need new leadership at FILA, and we need both more transparency and more responsibility from the International Olympic Committee.
John Irving is the author of 13 novels. A former wrestler and coach, he was inducted into the National Wrestling Hall of Fame in 1992.