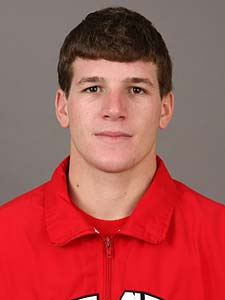 R-SR. | 141
LOCK HAVEN
SOUTH PLAINFIELD, N.J.
2010-11: During a redshirt season, went 14-6 wrestling unattached at 149 pounds and 4-0 wrestling unattached at 141 pounds … earned three victories by fall and three victories by major decision while wrestling at 149 pounds … won the National Collegiate Open championships at 141 pounds … placed fourth at the Millersville Open and "Shorty" Hitchcock Memorial Classics at 149 pounds.
2009-10: Listed at No. 33 in the final NCAA Wrestling Coaches Panel Earned his second trip to the NCAA Championships with an at-large bid … finished with a 25-14 overall record, including 12 falls, in his first season as a Scarlet Knight … finished the fall listed as the 18th best 133-pound wrestler by Intermat … tied a team–best, with Dominick Russo, with 14 wins in his first semester as a Scarlet Knight … tied for second in the team in pin falls with David Greenwald with seven in the fall … placed eighth at the 47th Midlands Championships in Evanston, Ill. … took down No. 18 David Marble for the second time of the season with a 6:54 pin fall … picked up his fastest pin of the season against VMI's Luke Todd in 2:54 on Dec. 5 … defeated No. 13 David Marble of Bucknell by an 8-3 decision on Nov. 27 … reached the finals of the 133-pound bracket of the Oklahoma Gold Tournament on Nov. 14 before falling to No. 11 and top-seeded Danny Mitcheff by a 3-2 decision … listed in two preseason national rankings … appeared at No. 24 in the D1CollegeWrestling.net 133-pound national rankings and at No. 4 in the site's EIWA rankings … listed at No. 27 in WrestlingReport.com 133-pound national rankings … also ranked in WrestlingReport.com's Atlantic Regional (No. 11) and EIWA (No. 5) preseason rankings.
PRIOR TO RUTGERS: During his sophomore year at Lock Haven (2008-09), went 22-16 as the squad's starter at 133 … six majors, two tech falls and six pins (2:30) … third at the 2009 EWL Championships … fourth at the Pennsylvania State Athletic Conference (PSAC) Championships … as a true freshman for Lock Haven (2007-08), served as the team's primary starter at 133 as a freshman … went 12-15 with four pins (0:35) … took second at the Eastern Wrestling League (EWL) Championships to qualify for the NCAA Championships after starting the EWL tournament as the last seed at 133.
PERSONAL: Son of Bill and Sue Ashnault … has two siblings – Carly and Anthony.