247sports.com's Bobby Deren 4-part series: The Scott Goodale Story
---
Scott Goodale stepped in to take over the Rutgers wrestling program in 2007 during a time when it was on the verge of extinction. Since that time, Goodale has revivified Rutgers wrestling into a perennial Top 25 program. He also coached a pair of wrestlers on their way to winning NCAA championships. This past season, only three wrestling programs in the country drew more fans to their home matches than Rutgers. Goodale built Rutgers wrestling piece by piece, and established it as a proud and prominent part of New Jersey wrestling.
Long before the success and notoriety, Goodale found his footing on a wrestling mat as a young boy growing up in the town of Jackson, N.J.
"When I first started, I actually got pinned," Goodale recalled. "My shoe fell off and I didn't know how to tie my shoe. So I ran up into the stands to my mommy. I wasn't great when I first started."
It didn't take long before Goodale found his groove as wrestling became a constant part of his life.
"Every weekend, my dad would put me in the van and I would go to tournaments; one on a Saturday, one on a Sunday. That was just normal," he said.
Goodale did not limit himself to one sport as he quickly assumed a busy schedule.
"I would go to a wrestling tournament every weekend and I would also play basketball, but I just took to wrestling," Goodale said. "That is kind of how it started."
And how was Goodale on the basketball court?
"I was actually pretty good," he said. "Playing grade school basketball was a big thing in Jackson back then. I joke with my friends to this day, guys who I went to high school with. I averaged at least seven [points] a game. Not that anybody counted, but I counted my points. I was a little athlete running around and I loved playing hoops. After playing hoops, I would go to a wrestling match. That was normal."
When basketball wasn't in season, Goodale double-dipped wrestling with a couple of other sports.
"In the fall, I would go play a soccer game. Then, I would change in the van and I would go to a wrestling match," Goodale explained. "If it was the early spring, I would play a baseball game, change in the van and I would go to a wrestling tournament. I played a lot of different sports."
Preparation was always key for Goodale as any successful wrestler must spend countless hours training for just a short span of time on the mat. His preparation was not something that is common in most young athletes.
"I got into it. I got into training, working on it really hard," Goodale said. "At a young age, I thought it was really, really cool to do things that nobody else was doing. I would run every single night. That was normal for me. Even when it was snowing, sleeting, hailing, and even on nights when it was 10 degrees, I would be running. And I thought no other wrestler did that. I would watch Rocky movies and think that I was just going to out-train everybody. At the time, I didn't think anybody else was doing that.
"So when I took the mat as a fifth, sixth, seventh, eighth-grader. I just thought I was more prepared. When you get to high school, there are a lot of distractions, but I thought I always did a pretty good job of being into the sport."
That translated into a good amount of success for Goodale.
"I won a lot of tournaments. I won three state titles as a little guy," Goodale said. "Then, I did really well in middle school and that continued into high school. I finished second my senior year and fourth my junior year. I was a freestyle All-American in high school. I had a lot of success. But I always thought I was a better coach than I was a wrestler."
In addition to his wrestling prowess, Goodale spent a good deal of time on the football field at Jackson Memorial High School.
"I played quarterback and started for three years," Goodale said. "Back then, Tommy Tarver was the quarterback at Rutgers and he went to Jackson, so I followed him. He was an all-state quarterback who signed with Rutgers and I had to follow him. When he left, I started as a sophomore weighing 125 pounds. I was always a quarterback growing up through Pop Warner."
Goodale was obviously not the biggest of quarterbacks. He started out wrestling in the 108-pound weight class as a freshman and then moved up to 119, 134 and 145 over the next three years. During his senior year of football, he was a 160-pound quarterback.
All that success led him to take up wrestling at the college level as he attended Lock Haven University. But even before he left for college, Goodale knew that his path would lead back to New Jersey for a career that was already determined.
"I was very fortunate to know in high school that I was going to be a coach. My father coached every sport in our town. My grandfather was a coach in Far Rockaway, my mother was an assistant athletic director. I knew very early on what I wanted to do; go away to college, come back and teach, and be a coach."
---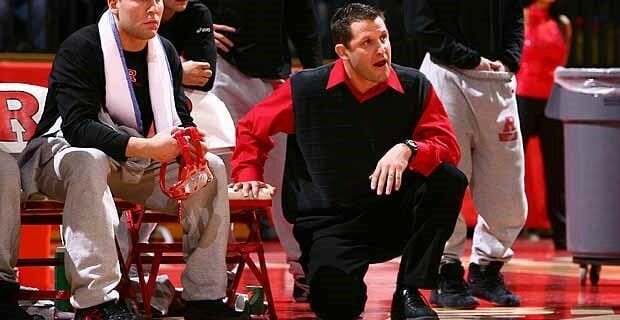 For Rutgers head wrestling coach Scott Goodale, a career in coaching got off to an early start. He rose the accolades of a strong high school wrestling career to a Division 1 scholarship at Lock Haven University, located in north-central Pennsylvania. Even before he wrestled his last match at the college level, his sights were set on coaching.
"I got recruited by Ohio State, West Virginia, Lehigh and Lock Haven. I probably got recruited more by Lock Haven and that's why I decided to go there," Goodale said. "But I wanted to get back to my hometown right after college. I knew that early on. That is all I ever wanted, was to get back to my hometown and coach."
Coaching was something that Goodale saw firsthand growing up.
"My father coached my teams at the younger level; little league baseball, Pop Warner football and middle school wrestling," Goodale said. "So he coached my older brother's friends, my friends. He coached all of us growing up. It was a year-round second job, so to speak."
There was more than one Goodale family member that took to coaching.
"My grandfather coached football and baseball coach at Far Rockaway," Goodale said. "He won a ton of city championships and coached a bunch of games in Yankee Stadium. My sister has coached basketball at Jackson since 2001."
While the urge to coach overtook Goodale early in his life, he had no intention of replicating the way other coaches ran their respective programs.
"For me, it was always about carting my own path. I always wanted to have my own program," Goodale said. "Even when I was working under a very good friend of mine, I was always thinking about how I would do things. I had mentors and people I really trusted, but I always had a passion about the way I wanted to do things; do it the right way and don't cut corners. It was more about hard work and having a vision and a plan. You get that from a lot of different places. That was always my thing. I probably got that from my shortcomings as an athlete. I didn't cut corners, but I just felt like I didn't do everything possible that I needed to do.
Goodale finished his college wrestling career with 99 wins, but it was some of those losses that truly influenced his coaching philosophy.
"I had a lot of regrets from my college career," Goodale said. "So I made a promise that I would never let our athletes go through that. It was going to be a well-thought-out plan and I knew early on I wanted to create my own path, do my own thing and run my own program."
It would not be long before Goodale had that opportunity. After earning a Bachelor's Degree in Health and Physical Education from Lock Haven, he made good on his plan to return home.
Goodale took on assistant coaching roles for the Jackson Memorial wrestling team as well as the football team right out of college. And by the age of 27, he was named the Jackson Memorial head wrestling coach in 2001.
"My sister (Rachel Goodale) and I actually got out head coaching jobs together. When she became the head basketball coach, I became the head wrestling coach," Goodale said.
It did not take long for Goodale to achieve success running his own program. He led the Jackson wrestling program to No.3 and No.4 national rankings. However, his success was not just a product of his wrestling knowledge.
"It started by just being available," Goodale explained. "I remember when I first met my wife (Lisa), who was my girlfriend at the time. She said, 'you are always available to these kids. You are their coach, not their friend.' She makes a point, but at the same time, I made it a point to always be available. If someone needed someone to train with, I would train with them. If they wanted to work out, I would work out with them. If they wanted to do schoolwork, I would be available to help them. I came from a very fortunate family. I had a mom, a dad, a brother, a sister, grandparents. Not everybody had what I had, so I kind of understood that."
Meanwhile, just a one-hour drive from Jackson, Rutgers wrestling was going through a bumpy patch in Piscataway, N.J. There were serious discussions on eliminating the wrestling program altogether.
At the time, Goodale did not give an inkling of consideration for doing anything but continuing down the same path.
"It's all I ever wanted. I coached football on Friday night and I was the head wrestling coach of one of the best teams in the country," Goodale said. "I had everything I ever wanted. That was my life, my passion. We were winning state championships in football, we were winning state championships in wrestling. I was so set on what I was doing. I was a tenured teacher. My wife was a guidance counselor, my sister was in the school. I didn't want anything but what I was doing. I was so content. I never even thought about coaching college."
So what changed?
---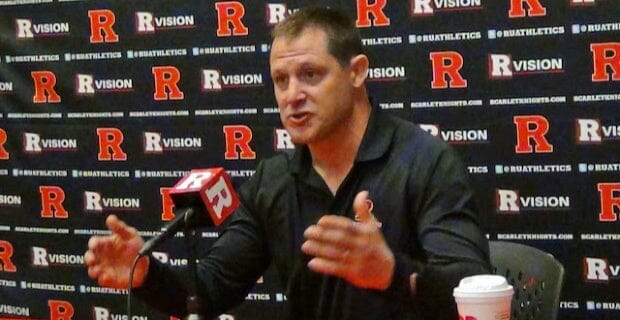 Scott Goodale had succeeded at the high school level as a wrestler and it did not take him long to succeed as a high school wrestling coach. Both of those success stories were being written at Jackson Memorial High School in Jackson, N.J.
Rewind the clock back to 2007 and Goodale had the Jackson High wrestling program rolling.
"All I ever wanted to do was go back to Jackson and create this wrestling program that was one of the best in the country," Goodale said. "People thought I was crazy. In 2007, we were No.4 and we had a team coming back that I thought could beat the No.1 team in the country in Blair Academy. We were really good."
But something else was starting to evolve.
"I was contacted by a guy by the name of Bill Ard who played for the New York Giants.," Goodale said. "He is a friend of [former Rutgers athletic director] Bob Mulcahy. Rutgers was getting ready to drop their wrestling program. So Bill Ard came to me and said, 'Scott, can you come up with a plan on how you can make Rutgers wrestling relevant?' Coach [John] Sacchi who coached [Rutgers] before me had decided he didn't want to coach anymore, and they asked me for this plan. So I came up with a five-point plan."
That plan wasn't drafted in the most conventional manner.
"It was over dinner with my wife and couple bottles of wine," Goodale said. "I wrote it on a napkin. It was everything from recruiting to academics to scheduling to coaching staff to summer camps. Those were the five points. I came up with a plan with what Rutgers needed to do, not for me. It wasn't an interview. It was for Bill Ard to pass along. I handed it to him when we were at the wrestling championships down in Atlantic City."
That plan led to an unexpected turn of events. Goodale was asked to interview for the Rutgers head coaching job. He accepted and embarked on a six-hour interview.
"I never had any dreams of being a Rutgers wrestling coach, never even thought about it," Goodale said. "I knew Rutgers wrestling should be good. It's in a great wrestling state. The reality was that coach Sacchi was never given the resources that I was given. He had one coach who was a part-time guy. He was a part-time coach. They had three scholarships. You can't win that way. That was all part of what I talked about in my five-point plan. And then all the sudden, in August, I am coaching football at Jackson and I get offered a job at Rutgers."
That led Goodale to do some serious thinking.
"It really was a tough decision," Goodale said. "I never had any thoughts of coming out of Jackson. We had a great football team coming back and we had a great wrestling team."
Nevertheless, this was an opportunity to coach a Division 1 college wrestling program. There were pros and cons of taking the job, which led Goodale to seek out some advice.
"I have this one guy I talk to, his name is Bernie Reider. He is a longtime coach and athletic director at Jackson," Goodale said. "Any big decision I ever make in my life, I go through Bernie Reider who was a longtime wrestling coach at Jackson."
Reider's answer was right to the point.
"He told me, 'you should take this job,'" Goodale said.
At that time, the Rutgers wrestling head coaching job did not come with the promise of large crowds, Big Ten conference membership or even a handsome paycheck.
"I was freaked out by the challenge, but I decided I was going to do it," Goodale said. "I didn't care about my salary, I didn't care about how many assistant coaches I was going to have. I knew scholarships were going to be a big thing. I had to get more of those. I just thought if they gave me enough resources to get it going, New Jersey wrestling would take over and this thing could be really special. That's how it went down."
And so it came to pass that Goodale quickly found himself immersed in college wrestling.
"I had guys getting recruited and all these division 1 coaches calling me about them," Goodale said. "That's how I was involved in college wrestling, but I never had plans to coach college."
Coincidentally, it was Goodale's five-point plan that led him to be named Rutgers wrestling head coach on July 31, 2007.
---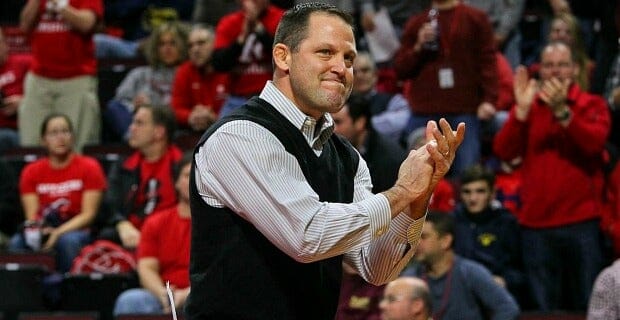 Scott Goodale took over the Rutgers wrestling program in the summer of 2007. While the program seemed to be on shaky grounds, Goodale emphasized that it was his predecessor who actually kept the program from folding.
"Coach [John] Sacchi and coach [Joe] Ryan saved Rutgers wrestling," Goodale said. "Then, Sacchi decided to retire."
Goodale's five-point plan landed him the job at Rutgers and his future success would not come without some help. Coincidentally, it was assistant coach John Leonardis who helped him prepare that five-point plan for formal presentation.
"I gave it to John, who was a professor at the Peddie School before he became my assistant coach for the last 13 years," Goodale said. "He printed it out and I told him not to make me look too smart. So he put it together and I handed it to Bill Ard. It's ironic that he became my assistant coach."
From there, Goodale was ready to take on the world of college wrestling as a head coach. However, it was not as easy as it may have sounded.
The start of the 2007 season came with its share of lumps.
"We got crushed by Ohio State, we got crushed by Lehigh. Those were my first two matches," Goodale said. "We got shut out at Ohio State and then we lost to Lehigh."
Next up was a road trip to Maryland and Goodale had a plan for how to narrow those margins.
"I told [athletic director] Bob Mulcahy, we need to get tougher," Goodale said. "Forget all this staying at a hotel. I wanted to get a yellow school bus and bring it to Maryland. I didn't want to go down the night before, I wanted to go down the day of the match. I wanted to take an old school bus. He said we couldn't do that in Division 1 athletics. But that was my thought process."
Rutgers wound up losing 39-4 to Maryland.
"I remember calling my wife after that. I was so used to winning and I said, 'what the heck did I do?' Those were long nights," Goodale said.
That rest of that first season did not play out in the same manner as Goodale's group would go on to win the next 11 of 15 duals to finish with a respectable record of 11-7.
That led into an offseason where Goodale canvassed the state.
"Coach Leonardis and I put in so much time," he said. "I remember that first year, we visited a lot of schools. I think it was 256 schools, whether it was through camps, clinics, banquets or just visiting the school recruiting. We met every coach in the state from junior high all the way to high school. We did a lot of grassroots on the ground running. That is kind of how we went about it."
That effort started to pay off as top recruits wanted to come and wrestle for Goodale.
"We wound up with the No.3 recruiting class in the country," Goodale said. "But I was so naïve, and maybe a little cocky. I said to myself, 'this is going to be easy. We are going to win a national title.' But there was so much more to it."
Over the next three seasons, Rutgers put together a combined record of 60-14-1 as a team. Yet, Goodale was still unable to get any of his wrestlers to earn the biggest prize in the sport.
"There were years we would win a lot, but we would go to nationals and we wouldn't have All-Americans," Goodale said.
He didn't blame those wrestlers for any shortcomings in their quest to reach the podium in March at the NCAA Championships.
"We have developed a championship lifestyle. But I was a young coach at the time," Goodale said. "This was a whole other level. The wrestling part was easy because I always worked hard. But there is so much more to it and I just got caught up in winning. That's all I wanted to do. And we won a lot. But if those guys from that first class were with us now, we would have multiple-time All-Americans and I am sure we would have a couple of national champions in there. But I wasn't the best leader at the time. I was all about winning. I was cutting corners. We would win a lot of dual-meets but we would go to the national tournament and we would never have All-Americans. I was learning on the go so to speak."
While that first recruiting class did not produce any NCAA All-Americans, it was part of the foundation for what Rutgers wrestling has become.
"I am forever grateful for that group. That group in 2008 and 09 and 10, they got me through those rough times," Goodale said. "I became a better coach because I didn't lead them the right way. My whole philosophy has changed since then. It enabled us to attract some really good guys down the road, getting a guy like Anthony Ashnault to commit."
Ashnault did reach the ultimate prize in college wrestling. He went on to become Rutgers' second NCAA Champion a year ago, and that occurred just minutes after Nick Suriano became Rutgers' first-ever NCAA champion during the 2019 National Championships in Pittsburgh, Pa. Goodale also earned individual honors as he was named 2019 NCAA Tournament Coach of the Year.
Prior to that monumental night, Rutgers wrestling had already become a big event in Piscataway. This past season, crowds continued to pile into the RAC as Rutgers finished fourth in the NCAA in home attendance.
And just beyond the mat, there was Goodale doing what he has done for the past 13 years, without skipping a beat.
"Before every big match, I always get a text from someone telling me to just take a look around and make sure I enjoy this," Goodale said. "But I never stop and look around, even at the national tournament last year. For me, it's about the moment we're in and tomorrow we are going to try and get better. That is just the way I go about it.
"I mean I love the crowd, I embrace the crowd. It is awesome what we have been able to do. But at the same time, I am trying to win. I never just sit there and say, 'look at this.' I probably should do that more. But I haven't gotten to that point yet."