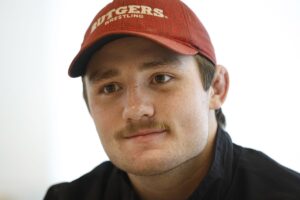 By Patrick Lanni | NJ Advance Media for NJ.com
The good news for Rutgers: Brian Soldano looks every bit like the one-of-a-kind wrestler who made every match memorable during his run to three state titles at High Point High School.
The bad news? He may only wrestle three more times this season.
Soldano highlighted the opening weekend of the dual-meet season with two ranked wins as No. 21 Rutgers started its season with a victory over Clarion on Friday night at the College Avenue Gym then split a pair of duals Saturday during an 11-team showcase event at Liberty High School in Bethlehem, Pa. In its first match, Rutgers shut out Sacred Heart, 50-0, then dropped a 25-16 loss to No. 6 Arizona State in its second.
Soldano's debut, which included wins over No. 21 Will Feldkamp of Clarion and No. 17 Anthony Montalvo of Arizona State, now puts even more pressure on coach Scott Goodale to sort out his possibilities at the 184-pound weight class.
That's where Soldano shares a lineup spot with sophomore John Poznanski, who like Soldano bursted onto the scene as a true freshman two seasons ago. During his true freshman season in 2020-2021, Poznanski finished fourth at the NCAA Championships to earn All-American status.
It's one of the "good problems" Goodale talked about in his media day press conference. Goodale also said one of the two will redshirt this season.
Both Poznanski and Soldano talked about splitting time through the first semester.
Once we figure out redshirt dates and the lineup, we'll figure it out," Soldano said last week at Rutgers' media day event. "It doesn't matter who goes there. Each of us is going to have a good shot."
Poznanski has maintained his redshirt while Soldano easily beat both ranked wrestlers over the weekend but still has his redshirt in place thanks to a new rule put in place by the NCAA (more on that below).
Soldano blasted Feldkamp on his way to a 15-5 major decision Friday, where he methodically worked his way through several dangerous positions. The High Point standout then returned Saturday to win by fall against Sacred Heart in the first period and by technical fall against Montalvo in a match that he scored 13 points in the first period.
Poznanski, meanwhile, wrestled unattached at the Princeton Open last weekend and won his weight class. He could do the same next weekend when Rutgers makes its West Coast swing to Northern California.
On Saturday, the Scarlet Knights take on Stanford in a dual and then compete in the CSU Bakersfield Open the following day. It's likely that Soldano wrestles in the dual against Stanford and Rutgers saves Poznanski for the open tournament, where he would not burn his redshirt.
It's all part of the lineup flexibility Goodale has been awarded this year after the NCAA granted a new rule for true freshmen to compete five times before burning their redshirt. The showcase Saturday counted as one event for Soldano, although he technically wrestled two bouts.
Poznanski, meanwhile, said he's open to the redshirt if that's where the season takes him.
"We'll see what happens," Poznanski said. "I'm open to do it. I'd love to do it. Who knows? There's a lot of dialogue between the coaches and myself and Brian."
---
Source: https://www.nj.com/rutgers/2022/11/rutgers-brian-soldano-making-redshirt-decision-difficult-after-dazzling-debut.html