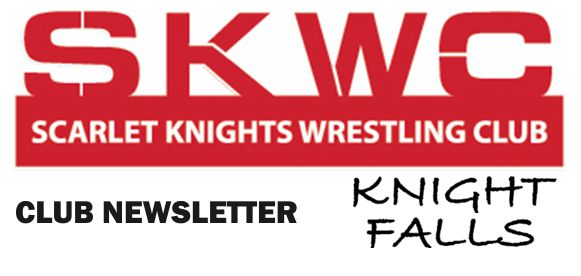 ---
COACHES CORNER
By: Donny Pritzlaff
Thanks to all the family, fans and donors who supported us at our golf outing. Once again it was a remarkable success for our club and concluded our summer with positivity that led to a great September of school and training.
Congratulations to Sebastian Rivera who had a good run at the 2022 World Championships. Unfortunately, Sebastian fell short in the bronze medal match, to Bajrang Punia of India who is a multiple time world medalist. Rivera has continued to improve and climb the international ranks with his eyes on Gold in Paris, 2024!
Rutgers Wrestling is beginning the third week of preseason training and the students in our program have responded well to the eight hour training phase of September and October. Preseason is the optimal period to build upon summer training and advance individual conditioning as well as callous up your mind and body in the wrestling room. Much of the time in the room has been focused on reestablishing our timing and improving on areas that we will surely encounter this season.
The Big Ten conference has released our schedule, so we are almost ready to dispense the entire season. Instead of using ranking matches in October, our staff plans to determine our starting lineup during separate phases of the season by utilizing Open tournaments as the barometer. Beginning the season with the Princeton Open just down Route 1 in New Jersey on November 6th and then following that up with the Roadrunner Open in Bakersfield, CA. Seeing how our team responds to outside competition, with the strong likelihood of facing one another on neutral ground, will give us the best gauge on where we are at with determining our starting ten. We will evaluate the individual performances of the Midlands Championships as we move into the final Away non-conference weekend of the year (January 6th > Bloomsburg and January 8th > Rider). To open up B1G action we are on the road Friday, January 13th at Indiana, and Sunday January 15th at Ohio State. The following weekend, Michigan State visits Jersey Mike's Arena on Friday, January 20th and then the University of Michigan on Sunday, January 22nd. The following Sunday January 29th we host Northwestern in our solo B1G western division crossover. Our young men begin the February climb at College Park vs Maryland on Saturday February 3rd and then we prepare for the JMA finale against Penn State on February 10th and we complete the dual season with a road match at Nebraska that Sunday February 12th.
Soon our first semester will be approved and distributed to the public. There are several opportunities for our students to knock off top competitors throughout the season, but before then it is time to toughen our minds and bodies for the season ahead.
As always, thanks for all your support and please follow our team on social media @RUWrestling on Twitter and Ruwrestling on Instagram.
Red Team Upstream
---
Pin Pool & 100 Knights of Armor
Registration for our Annual Pin Pool and Pin Pool+ programs are below.
PinPool: https://app.donorview.com/n6l6m
PinPool+: https://app.donorview.com/WG8wP
In addition to the pin pool, we are also unveiling the 100 Knights of Armor which will be a fundraising endeavor incorporating alumni from the previous 15 years to become financially involved in supporting our extended team of SKWC athletes.
---
Upcoming Events:
November 2nd SKWC Membership Open House
---
SKWC At The World Championships
The SKWC RTC is beyond proud of the way our athletes competed at this year's World Championships. Sebastian Rivera (65kg) and Joey Silva (61kg) put it on the line vs. some of the best in the world representing Team Puerto Rico in Serbia at the World Championships. The World Championships are the pinnacle of our sport. Each country wrestles their top athletes for a chance to be the best wrestler on the planet.
In his first World Championships appearance, Pan-Am Silver Medalist, Joey Silva dropped his opening match to Romania 5-2. Joey will look to continue to build off this performance at the U23 World Championships later this month.
In his second World Championships appearance, 5x NCAA All-American, Sebastian Rivera started off his tournament with a technical fall with a score of over Turkey 11-1. He kept things rolling with a win in the quarterfinals over Mongolia 8-1. That win propelled Rivera to the semifinals where he would face decorated NCAA & USA wrestler Yianni Diakomihalis and a chance to wrestle for a world medal. Sebastian would eventually drop his semifinals match and fall to the bronze medal match where he would face Olympic Silver Medalist Bajrang Punia of India. In a back-and-forth battle to the very last second Sebastian would drop his Bronze Medal match 11-9. We are extremely proud of Sebastian's 5th place finish in the world!
Link to results: https://scarletknights.com/news/2022/9/19/wrestling-rivera-finishes-fifth-at-uww-senior-world-championships.aspx​​​
---
U23 Preview
The SKWC RTC will have three athletes competing at the upcoming U23 World Championships in Spain. Dylan Shawver (3rd Year), Sammy Alvarez (4th Year), and Joey Silva (RTC Athlete) will compete against athletes from all over the world while representing Team Puerto Rico.
Shawver (57kg) and Alvarez (65kg) will compete Saturday October 22nd and Joey Silva (61kg) will compete Sunday October 23rd. Fans can catch the U23 action live on Flowrestling!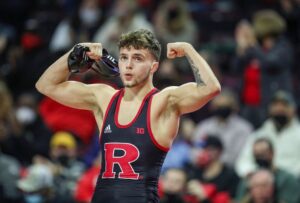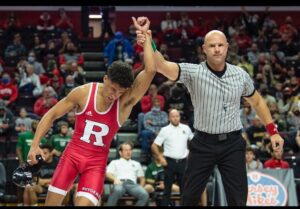 ---
Freshman Spotlight
Joe Fongaro
The following is one of a series of interviews that Jordan Pagano will have with each of this year's freshmen class.
1) Can you tell us a little bit about yourself? (anticipated major, hometown, high school, etc.)
My name is Joe Fongaro. I am from a small town in North Jersey called Boonton. That is also where I attended high school. I have not yet decided what I will be majoring in.
2) Why Rutgers?
I chose Rutgers because of the awesome athletics and academics at the school. I loved the coaches and the whole campus. I also knew multiple guys already on the team and I felt like I really fit in well with them on and off the mat.
3) What are you most looking forward to about competing in the Big 10?
There are many things I am looking forward to about competing this season. If I had to pick one, I would say I am most looking forward to being able to wear that block R on my chest while having the opportunity to wrestle some of the top talent in the country.
4) When and how did you first get into wrestling?
I have been surrounded by the sport since a very young age. I first got into wrestling when I was 4 years old. My older brother heard about it and wanted to try it, so I went with him to his first practice. I fell in love with the sport instantly.
5) What do you love the most about wrestling? The least?
I love the grind that it requires to be successful. I love how no aspect of the sport is easy and it requires you to be mentally tough. I cannot think of a part of the sport that I do not like.
6) What else do you plan on getting involved with on-campus besides athletics?
I plan on participating in some community service events to help me meet some new people. I know the wrestling team is heavily involved with the Embrace Kids Foundation so I look forward to working with them.
7) What are some of your favorite things to do outside of wrestling?
Outside of wrestling I like to fish and play video games. I also like to play tennis in my free time. I actually will be playing Coach Goodale soon in a highly anticipated game of tennis.
8) If you could play any other sport at this level, what would you play?
It would definitely be tennis. Last year I was an all-conference honorable mention tennis player. I finished the season strong by winning 4 of my last 5 matches in 1st doubles for the Boonton Tennis team. Some have called me a young Roger Federer.
9) What are some of your short term and long term goals both athletically and academically?
A short term academic goal that I have is to pick up my overall performance in my classes. A long term academic goal that I have is to decide on a major. A short term athletic goal that I have is to keep on improving my mile time. A long term athletic goal that I have is to perform well this season and get better everyday.
10) Who's your favorite professional sports team?
The 2 main sports teams I follow are The Dallas Cowboys and the New York Rangers.
11) What's your favorite movie/TV show of all time?
My favorite movie of all time is Gremlins.
12) What is your favorite food?
My favorite food has to be a taylor ham, egg, and cheese.
13) What's your favorite memory from wrestling?
My favorite memory from wrestling is winning a state title my senior year. It felt great because I felt like I was representing my whole school and hometown very well. It didn't feel like I was out on the mat alone. I really felt their support.
14) What inspires you to be great?
The success of my older brother (Dan) and sister (Julia) inspire me to be great. All 3 of us competing in this sport at an extremely high level creates a friendly family competition. I always want to outwork and outperform them, and I think they feel the same way about me.
15) If you could invite any three people to dinner, alive or dead, who would they be?
I would bring my club coach at the Edge, Ernie Monaco. I would also bring Dak Prescott and Igor Shesterkin to talk about their mindsets and how they approach their sports.
---
SKWC At The Ultimate Club Duals
This month our SKWC Local Sports Club competed at the Ultimate Club Duals in State College. The Ultimate Club Duals attracts some of the best club teams from all over the country. The dual tournament was a two-day event consisting of a seven different 5 round team pools on Day 1. The winners of each pool moved onto the Gold Pool Bracket for Day 2.
The SKWC won their pool action on Day 1 blowing away their competition by outscoring their opponents 235-37. After winning our individual pool play, the SKWC earned the 5 seed in the Gold pool.
On Day 2, the SKWC opened pool action against POWAY, a national powerhouse high school from California. In a highly contested dual featuring nationally ranked wrestlers across both teams, the SKWC would win the dual by a score of 34-33.
Moving on to the semifinals of the bracket, the SKWC would face number 1 seed M2TC Magicians. In a very competitive dual featuring some of the best wrestlers in the country, the SKWC would eventually fall by the score of 46-12.
After losing in the semifinal, the SKWC automatically fell into the 3rd place match against Crusher Wrestling Club out of Pennsylvania. In a back-and-forth contest between Pennsylvania's and New Jersey's finest, the SKWC lost by the score of 36-30.
Although it was not what we came for, we are very proud of our 4th place team finish against some of the best wrestling clubs in the country! We look forward to competing at the Ultimate Club Duals next September.
Some of the highlight matches from the duals include but are not limited to:
​​​​​​​163- Daniel Rella (SKWC) over #18 Dagen Condomitti (Northampton) Fall 3:58
116- #17 Edwin Sierra (POWAY) over HM Patrick O'Keefe (SKWC) Dec 3-1 SV
175- #4 Lucas Condon (POWAY) over #8 Harvey Ludington (SKWC) Dec 7-4
135- #9 Alex Nini (SKWC) over #7 Dalton Perry (M2TC) Dec 4-2
141- #8 Vince Bouzakis (M2TC) over #12 Julian George (SKWC) Dec 7-5
170- #8 Harvey Ludington (SKWC) over HM Cade Ziola (Crushers) Dec 1-0