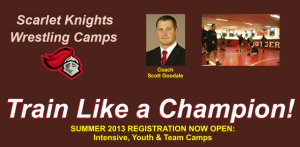 Intensive/Technique Camp (3rd-12th grade): July 9-12, 2013
This camp will be for serious junior high, high school and advanced recreation wrestlers who want to push themselves to be the best. There will be individual tournaments during the week. Learn state of the art technique. Time to train!
Youth Camp (beginners, ages 6-10): July 9-12, 2013
Day Camp for the young wrestlers. Learn all the basics and state of art techniques. Also compete in a individual tournament. This camp MUST be paid in full when you register. Camp starts at 9 a.m. and ends at 2:30 p.m.
Team Camp (8th-12th grade): July 15-18, 2013
Wrestle close to 20 bouts in one week. Wrestle some of the top competition on the east coast. Also wrestle in a individual tournament along with technique sessions throughout the camp. Individuals may attend team camp as we will add them to other teams according to their team's needs.
Camp day starts at 10am.
Details, schedules, permission and registration forms and other information at our Summer 2013 Wrestling Camp page.