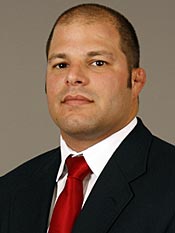 Position: Assistant Coach
Experience: Tenth Season
John Leonardis has been with Rutgers head coach Scott Goodale since his first day "On the Banks"and has played a vital role in the program's rise to national prominence. Leonardis helped the Scarlet Knights to a 111-38-1 record during his first seven years at RU.
Leonardis helped make an immediate impact on the recruiting trail as their first recruiting class was ranked nationally by W.I.N. Magazine (No. 3) and Intermat (No. 4). During Leonardis'stenure, RU has produced 36 NCAA Championship bids and 42 Eastern Intercollegiate Wrestling Association (EIWA) Championships placewinners.
The program achieved its first All-American in 2014 since 2002 in 157-pounder Anthony Perrotti, and has notched two top-25 and one top-10 finish since 2009. In 2011-12, Rutgers played host to one of four regional sites of the 2012 NWCA/Cliff Keen National Duals, continuing to boost the Scarlet Knight grapplers' national prominence.
The Scarlet Knights wrapped up the 2012-13 season at No. 25 in the NWCA/ USA Today Coaches Poll after recording a 16-4 mark and sending seven wrestlers to the 2013 NCAA Wrestling Championships. RU ranked ninth in the final NWCA/USA Today Coaches Poll in 2010-11 after posting an all-time best 21-2 record. Nine Scarlet Knights placed at the EIWA Championships, including Scott Winston who took home the 165-pound title to become the first RU wrestler to capture an EIWA championship since Tom Tanis in 2001.
RU qualified eight individuals for the NCAA Championships, which tied a school record. In 2009-10, Leonardis helped Rutgers to a No. 22 finish in the final NWCA/USA Today Division I Team Coaches Poll after posting a 19-5-1 record. Seven Scarlet Knights earned NCAA bids, the most since 1960. The No. 22 ranking is the highest in school history. Nine of Rutgers 10 starters are returning for the 2010-11 campaign.
The Scarlet Knights put together a 15-match unbeaten streak from early December to late February which was the longest streak in school history. Leonardis was a three year varsity wrestling letter winner at Lehigh before graduating in 1997.
He was an EIWA Champion in 1996 in the 190-pound weight class. The Sea Girt, N.J., native played football and wrestled for Blair Academy in Blairstown, N.J. His senior year he was a captain for both wrestling and football, leading each program to a State Championship. During his wrestling career, Leonardis was a four-time National Prep place winner and champion and an Amateur Wrestling News All-American.
On the coaching front, Leonardis has extensive experience. For six years (2000-06), he compiled a .720 winning percentage as the head coach at Peddie School in Hightstown, N.J. Leonardis-coached teams placed in the top-five of the National Prep Championships five times. He coached 32 National Prep Place winners and four Junior National All-Americans.
The seven-year assistant coach also worked as the New Jersey Wrestling Federation Coach from 1997-2007, receiving Coach of the Year honors three times from the Trenton Times.